I Survived the First Co-Ed Geek Girl Slumber Party!
I've hosted a Geek Girl Sleepover before but a Co-Ed Geek Girl Slumber Party? Now that's a horse of a different color!
Lorraine Cink, who you may know from Marvel's The Watcher, invited me to be a guest on her first ever Co-Ed Geek Girl Slumber Party. I had no idea what to expect but was super excited to be on stage at the Peoples Improv Theater in New York City. Fellow guests included Kristin Hackett, Monique Moses, Daniel Kibblesmith, Margaret Lyons, and musical guest Megan Sass.
First things first, I apologize once again to the audience and our lovely host, for showing up halfway into the show. I got into a car accident on the way there! I'm ok but apparently this is a thing with me now. Anyway, I slipped on stage and told everyone my mom made me clean up my room before I came over, which was why I was late to the festivities.
The first activity was a riff on Syfy's Face Off, in which we had to team up and paint the face of unsuspecting audience members. What did we have to paint exactly? That was up to the audience. I was teamed with Kristin and given "Predator" as our goal (the other team had Pikachu). Now, I'm definitely not an artist but our task became even dire when Kristin told me she'd never seen Predator. I told her to work on the eyes while I frantically tried to recreate that famous mouth with nothing but Halloween makeup. As you can see, things did not turn out well…
Seriously, I am so, so sorry.
But it was good fun and the audience members were not only given prize packs but wet wipes for their trouble. And then…
Drunk Aquaman, aka, Alan Starzinski arrived and gave us a wonderful view of what it might be like if Aquaman got incredibly inebriated and spoke to the Justice League.
And finally, Lorraine made us play some terribly decided rounds of "Fuck, Marry, Kill." Here I am explaining why there is no other option in this scenario but to marry Captain America.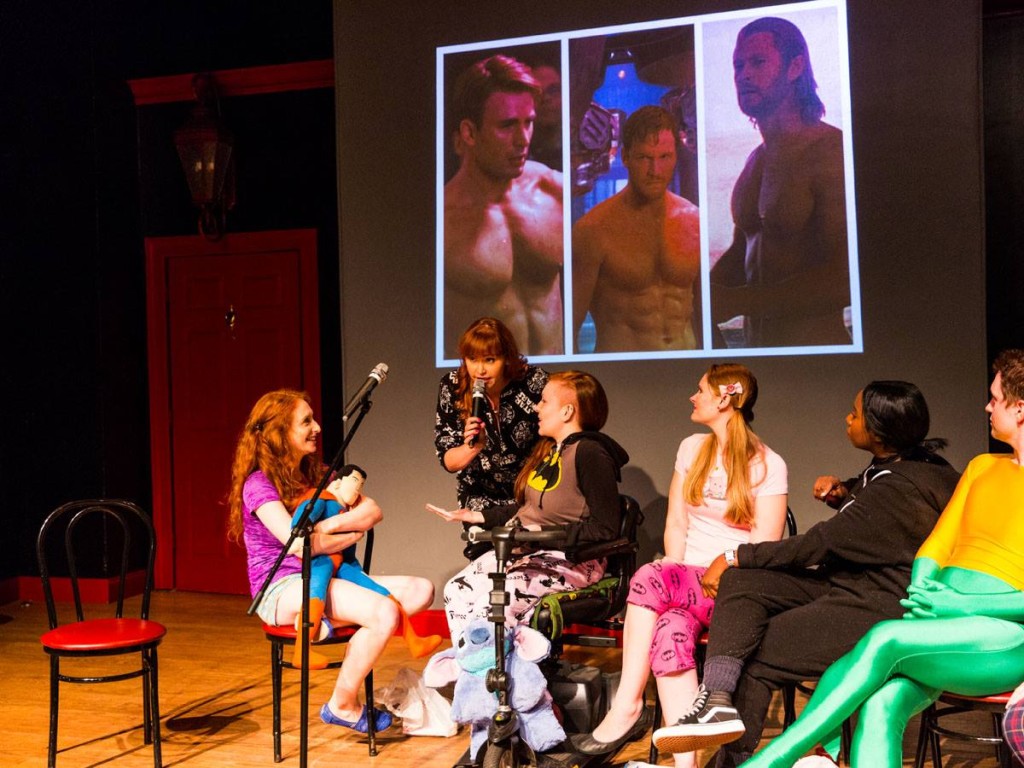 I also decided I'd have to kill Starlord. Sorry!
Thanks again to Lorraine for having me and if you're in town for New York Comic Con in October you can catch another Co-Ed Geek Girl Slumber Party with different guests on October 9th! Find those details, see more pictures, and keep up with the events right here.
(Photos by Eric Michael Pearson)