DC's Blue Beetle Trailer Will Knock Your Socks Off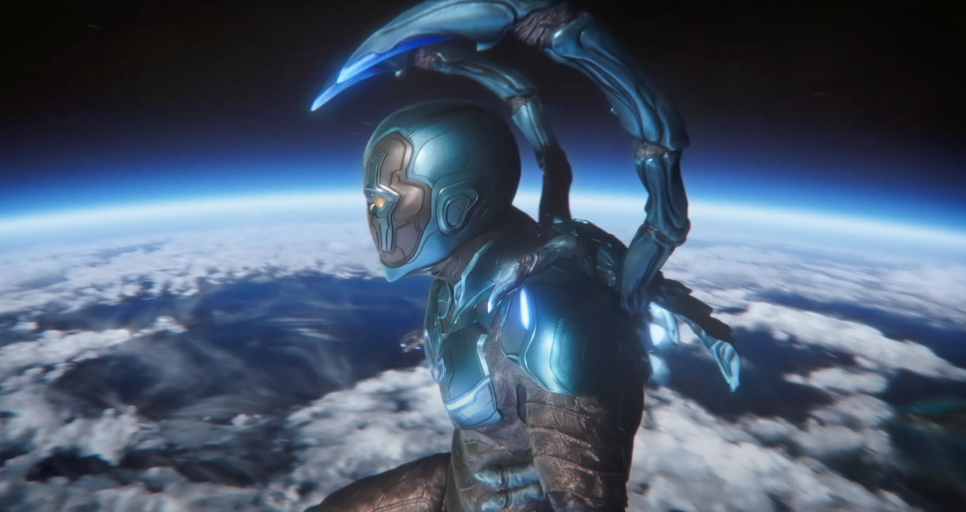 Move over, Secret Invasion, there's another alien set to invade Earth. And it's DC's Blue Beetle.
Warner Bros. has finally released a trailer for its Blue Beetle film directed by Angel Manuel Soto—from a screenplay by Gareth Dunnet-Alcocer. It stars Xolo Maridueña (Cobra Kai) as a new, albeit someone reluctant, superhero Jaime Reyes/Blue Beetle, and it just so happens to be the first live-action Lantinx superhero to get their own film.
Jaime (who is Mexican-American and lives with his family in El Paso, Texas—though the film has created a fictional town) is a bit older in this incarnation than fans are used to seeing him but probably still young enough for this to skew toward a younger audience than previous Warner Bros. DC films. Previously, Blue Beetle was set to be an HBO Max film but in 2021 we found out it would be heading to theaters after all. Check out the thrilling and hilarious first trailer below.
OMG THAT LOOKS SO GOOD!!!!!
Here's the official summary:
Recent college grad Jaime Reyes returns home full of aspirations for his future, only to find that home is not quite as he left it. As he searches to find his purpose in the world, fate intervenes when Jaime unexpectedly finds himself in possession of an ancient relic of alien biotechnology: the Scarab. When the Scarab suddenly chooses Jaime to be its symbiotic host, he is bestowed with an incredible suit of armor capable of extraordinary and unpredictable powers, forever changing his destiny as he becomes the Super Hero BLUE BEETLE.
Some Blue Beetle History
Created by Keith Giffen, John Rogers, and Cully Hamner and introduced in DC Comics' Infinite Crisis series in 2006, Jaime Reyes took on the hero's mantle after the second version (Ted Kord) died in the crossover event. But this new Blue Beetle would be granted special powers—and a really rad super suit—from an alien scarab that attached itself to his body.
The solo series Jaime starred in afterward was incredibly enjoyable, unfortunately, sales allegedly caused DC Comics to cancel it. Since then, the new Blue Beetle has been featured in many other comics and TV projects like Young Justice (we got a ton of cool scarab lore in this one), Batman: The Brave and the Bold, and Smallville plus several video games.
The first news of a live-action film arrived in 2018, but a lot has gone on at Warner Bros. since then. Here's hoping WB's latest superhero outing gets better marketing than Shazam 2.
Blue Beetle also stars Susan Sarandon as an antagonist, plus George Lopez, Harvey Guillén, Belissa Escobedo, Adriana Barraza, Damían Alcázar, Elpidia Carrillo, Bruna Marquezine, and Raoul Max Trujillo. Am I still devastated we're never going to see the Batgirl movie? Absolutely. But I'm definitely hyped to see Jaime on the big screen. Blue Beetle hits theaters August 18.