Christina Hendricks Talks All Star Superman, DC Heroines, And Joss Whedon's Avengers
Although her husband is a big fan,
Mad Men
actress Christina Hendricks was mostly a stranger to the world of comic books when she was approached to play one of the most iconic characters of all time for Warner Bros. I'm talking, of course, about Superman's main squeeze, Lois Lane, who Hendricks voices in the latest animated feature from DC,
All-Star Superman
.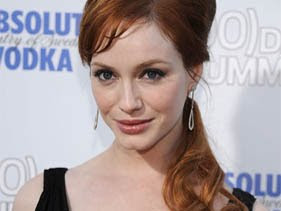 However, the actress does have a connection to the Marvel Universe right now due to her friendship and past working relationship (on Firefly) with The Avengers director Joss Whedon.
At the recent world premiere of All-Star Superman in New York City's Paley Center, I asked if she'd spoke to Whedon about a role in that film.
Head on over to
MTV Splash Page
to see her answer and find out more about her love of Lois Lane and her fans.