Ghostbusters in Limbo
I consider this Lame with a capital L. Variety reported yesterday the Ghostbusters video game set for release this October may never reach stores due to merger of Activision and Vivendi Games, now called Activision Blizzard. Someone's not happy and it's not just the Stay Puft Marshmallow Man.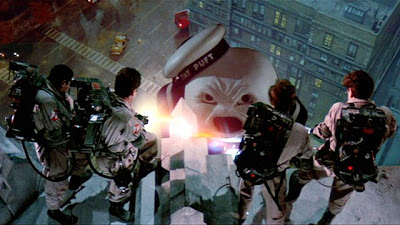 Activision Blizzard
announced they would only continue to publish a small number of games that were already in production by Vivendi's console publisher Sierra such as Ice Age, based on the film, and Crash Bandicoot and Spyro the Dragon titles.  
There has been no actual comment as to why Ghostbusters was not one of the games chosen to continue. Just this past weekend the game was promoted at the San Diego Comic Con. 
Videogamer.com
spoke with a representative of Activision who said, "As far as I know everything was going to plan. We haven't been given any reasoning for it." 
But from what I've been reading, we'll still be getting the game, just not when we expected to.
Destructoid.com
has quoted Sierra's PR team as saying, "It is not canceled and it will not be canceled." Now Sony Pictures Entertainment is looking for a new publisher for a 2009 release, which just so happens to coincide with the movies 25th anniversary. 
Should we be calling Shenanigans?
All of this comes on the heels of rumors of a new Ghostbusters movie. Coming from a "very reliable source" (take that for what it's worth)
DreadCentral.com
says all four original Ghostbusters have agreed to return to the franchise. Wait, there's more. They're saying the guys would be "handing over their proton packs to Seth Rogan and the crew from 40 Year Old Virgin!" That means Rogan, Steve Carell, Romany Malco and Paul Rudd would be our new Ghostbusters.
All-in-all those guys wouldn't be a terrible choice as replacements but haven't we learned to leave well-enough alone yet?