Do you like to Watch?
Voyeur: one obtaining sexual gratification from observing unsuspecting individuals who are partly undressed, naked, or engaged in sexual acts; broadly: one who habitually seeks sexual stimulation by visual means. If you aren't one already, you will be by the time you walk out of Zack Snyder's Watchmen.
The best part of reviewing a movie like Watchmen is it's based on a graphic novel everyone and their mother (well, not my mother) has read. That means I don't have to waste time explaining the plot and introducing characters. Keep in mind, SPOILERS abound for movie specifics, especially how mind-blowingly awesome it was.
Watchmen plays exactly like a comic book and it works perfectly. Starting with the big mystery (who killed the Comedian?), to back-stories (Sally Jupiter) and ending with the villain explaining his master plan (Ozymandias) it's everything a comic adaptation should be. In fact, Watchmen's success is partially because it's telling the tale of one graphic novel. This isn't a Batman, Iron Man or Spider-Man where you have 50 plus years of history to choose from for one movie. This has a beginning, middle and end that were already expertly laid out by Alan Moore over twenty years ago.
The Minutemen's history is told almost entirely in the opening credit sequence of the film. It definitely leaves you wanting more, to the extent that I thought they should have made another movie just about them. Seeing as how it runs almost three hours as it is, this was the best way to showcase the earlier costumed vigilantes' exploits and it's done really well.
Sally Jupiter (Carla Gugino) is the only member of the old team who gets more screen time as she's an intrinsic part in both her daughter, the second Silk Spectre, and the Comedian's lives. Jeffrey Dean Morgan's portrayal of the Comedian insured I will never look at him the same way again. Even though I knew what kind of character he was it still shook me to see his debasing actions. All of the actors were superb in their roles and Morgan was only upstaged by one – Jackie Earle Haley as Rorschach.
Haley's got a bit of the Bale Batman growl going on but it fits Rorschach better. He's not a sizable actor by any means but his presence is felt like a giant on screen. Whether it's simply breaking and entering or violently extracting information from an unwilling source he's Rorschach through and through. And all that without the use of facial expressions, though his inkblots say plenty and he's impressive out of the mask as well. I'd like the shake the hand of whomever designed his ever-changing mask, it makes a big impact.
Speaking of big impact, "Lower" Manhattan makes more than a cameo appearance, it's practically a supporting actor. It's nice to see the male figure get as much play as the female for a change, even if it is computer generated. Doctor Manhattan, as portrayed by Billy Crudup, is truly the heart of the film. I definitely found myself having more sympathy for him here than I did reading the graphic novel. Even though he's the only hero with actual powers there's just enough of the real man under the surface to keep him human.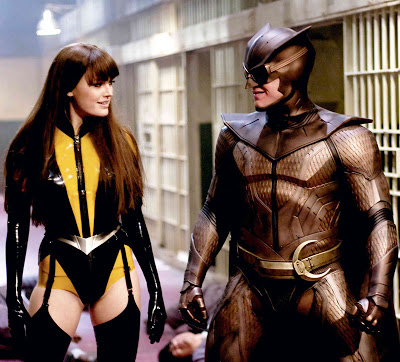 While the majority of the cast is working in costume for most of the film, it felt like Malin Akerman (Silk Spectre) and Patrick Wilson (Night Owl) would never get there. But when they did, it was instant chemistry. The awkwardness they shared while in plain clothes disappeared once they donned their rubber and latex and kicked some good old fashion ass. It's one of the greatest team-ups I've seen in a while.
I hold true to my original assertion that Tom Cruise would have made a fantastic Ozymandias but Matthew Goode played cool, cunning and crafty with ease. Not only that, but he's the epitome of eighties fashion. He's rubbing elbows with Ziggy Stardust at Studio 54 and getting painted by Andy Warhol all while running the wealthiest corporation in the world. He's the focus of a plot point that might bother some fans but it doesn't stick out and doesn't change anything overall. Bonus points for Bubastis showing up near the end.
There was once talk that the setting of the film should be updated to modern times. I'm so glad they didn't. Some of the younger audience might be confused by Nixon-era references and public figures but not enough to detract from the overall message I think. I must highlight an area in which Watchmen really excelled – it's soundtrack. Each song is placed perfectly and aides in the emotional impact of each scene, not just background music.
Boys AND girls have plenty to look at in Watchmen. I honestly can't see how fans of the graphic novel won't like the film. It feels like not much was cut at all (besides the Black Freighter) and there are plenty of little nods to readers throughout. A large number of shots are taken directly from panels in the book and set design is to die for. Archimedes, I'm looking at you. Watchmen is visually gratifying and stimulates the nerdy glands in every way possible. Make sure you don't get too excited while sitting in the theater though, you never know who might be Watching you.
Big thanks to the IMAX theater in the Palisades Center Mall for my preview screening.
You can also view and discuss this article at GEN.