Hey, That's My Cape! – Dreaming in Digital [Comics]
There comes a time in every comic reader's life when you stop and look at the amount of boxes piling up around you. Long boxes, that is. I'm not a collector of comics per se but I'm not a disposer of comics either. Some titles I keep because I know I want the chance to read them again in the future, but for the most part? The thought of throwing away hundreds upon thousands of dollars of product makes me want to cry.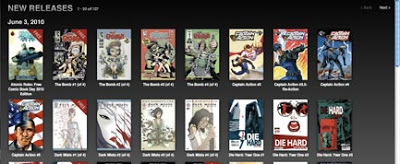 I've gone through my boxes a few times in the past, weeded out what I definitely didn't want and donated them. I'm a charitable person but giving away my entire collection? Even with a tax credit it still makes my bank account scream at me. But am I going to take the time to sell them and make back a portion of what I spent? I don't see that happening either. It would be a full-time job. So what's there to do to ensure this doesn't become a growing problem? I know, it pains me to say it too. Digital comics.
Find out how my first foray into digital comics went in the most recent
Hey, That's My Cape!
at
Newsarama
.