Hey, That's My Cape! – Give the Gift of Comics
We all have a good idea what we'd like for the holidays this year. You may even have your list formally written up (if you're like me and still want to pretend you're ten years old). It's a safe bet you have one or more comic books or graphic novels on that list, am I right? But what are you buying for others this season?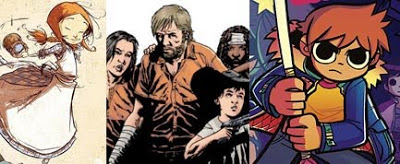 It's easy to shop for your fellow comic reading pals but maybe you're a little stumped on what to get everyone else. Well, seeing as how you're in a comic shop every week anyway, why not try and get your shopping done at the same time? Now, I'm not suggesting you grab the first thing off the shelves, stick a bow on it and consider yourself done. I'm sure mom wouldn't appreciate a copy of Blackest Night when she's never even heard of Green Lantern before. What you need to look for are comics for people who don't read comics. And there's an abundance once you start looking. Naturally I suggest you steer clear of the superhero genre for beginners but here are a few ideas to share your favorite pastime with friends and loved ones without them shoving your gift into their closet until they re-gift it to you next year.
Check out some of the best comics to get your non-comic reading friends and family hooked on comics this holiday season in this week's
Hey, That's My Cape!
at
Newsarama
!