How the Doctor broke my heart.
The universe has conspired against me. The Doctor is getting married. To his daughter.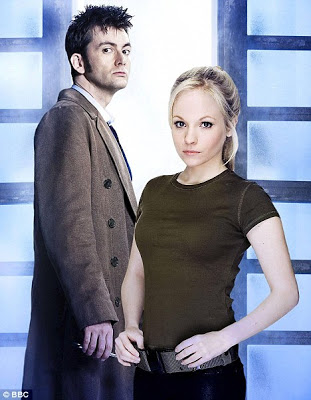 Or, more accurately, David Tennant is now engaged to his on-screen daughter Georgia Moffett according to the Daily Mail. BUT WAIT! It gets even weirder. Moffett is the real-life daughter of 5th Doctor, Peter Davison. Talk about wibbly-wobbly-timey-wimey.
Tennant, 39, and Moffett, 26, met back in 2008 while filming an episode of
Doctor Who's
fourth season in which Moffett played a genetically engineered clone of the Doctor named Jenny. Albeit a female version who's younger and yeah, I'm gonna say it, cuter than he. The couple plans to wed on New Year's Day of 2012. Tennant formerly had a relationship with another co-star, actress Sophia Myles who played Madame de Pompadour in the
DW
episode "The Girl in the Fireplace."
Tennant met his future father-in-law during a 2007 Children In Need special on the BBC. "Davison, 59, played the Doctor from 1981 to 1984, in which time Georgia was born to his first wife, American actress Sandra Dickinson," says the Daily Mail. Moffet herself has an 8-year-old boy from a previous relationship, the father of whom has never been publicly revealed. Davison said of his daughter's relationship with the Doctor, "It's great because David is a genuinely nice guy. I'm delighted Georgia has found happiness because she hasn't always had an easy life."
As much as it tears my heart out he's no longer on the market and that he's not engaged to be married to ME, I'm very happy for him. At least I've still got
my back-up
.