Interview: The Creative Team of Sim-I
Everybody loves monkeys. And it seems the guys at
Semantink Publishing
are no exception. Coming this Spring, writer
Joe Pezzula
and artist Daniel Touchet bring us
Sim-I
, a comedic tale about a super smart monkey attempting to escape the evil scientist who made him that way. I recently spoke with the creative team about their intelligent primate, their working relationship and their experience with the independent publisher.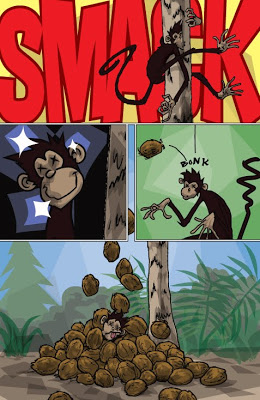 Jill Pantozzi: Joe, where did the idea for Sim-I originally come from?
Joe Pezzula:
It all began with a simple thought from
James Ninness
. One day he called me and said, "Lab monkey smarter than the average person. Can you do funny?" Before I could answer, I realized my pen was already on the page. I figured that a lab monkey MUST want to escape his prison, and from there I started to create the world within the walls, the creatures and other characters that would be the real "stars" of the page.
JP: Give me an idea of what the book is about exactly and what types of adventures we can expect.
Pezzula: I can tell you that the story revolves fully around a lab monkey (Sim-I) whose brain is enhanced by a crazed scientist with a darker purpose. The catch is that he still howls like a monkey. The newly intelligent-yet-incoherent Sim-I weasels his way throughout the facility, searching for an exit, he discovers hidden rooms, secret gardens, sex-crazed technicians, mechanical friends and enemies, and glittering, expensive fruit. Basically, we're watching Sim-I and his friends rally support against the scientist who made him intelligent, as they try to escape the lab and venture to the world outside. If he's caught, he faces vaporization or being puffed into a powder, a fate he'd rather avoid.
Daniel Touchet:
All that, and bananas.
JP: Was there a conscious decision to make it an all-ages book or did that come later?
Pezzula:
It's funny you say "all ages book" because it was quite an adventure to get it this point. Originally, though
Ben [Glibert]
was aiming for a straight up comedy, my first outlines were dark and rather grungy — violent, even. Then we had a long talk, during which I consumed several scones that had a consistency similar to metal (but they still tasted great, because it's not about the texture…I digress). What we ended up discussing changed my perspective of the character and the setting. I realized that the jokes didn't have to be deep or full of "great meaning." The world could be the joke, sure, but at heart, Sim-I is still a monkey. If the joke literally involves slipping on a banana peel, or a love potion gone wrong (we are, after all, in a lab) then so be it. Just as long as Sim-I continues his search for an exit, then we've reached out goal. So, in a roundabout way of answering your questions, the tone of the material developed later, with time and through many iterations, to become accessible to all ages.
Touchet: We talked about the audience for the story, and I imagined many different approaches, but we all seemed to gravitate toward making it universally funny, with some tongue-in-cheek (rarely get to use that phrase) mixed in for good measure. It feels, to me, as though it's a "hard" PG, if that even makes sense.
JP: What are some comics that inspired you to write your own? Is this your first foray into the four colors?
Pezzula:
I've only recently — in the last five years — become a large fan of comics. My recent influences have been
Y: The Last Man
,
Ex Machina
, and
Runaways
. Now I know they're all the same author, but each has a simple arc to its story, each has an appealing undercurrent / theme that holds interest when the story lags or takes a time out, and each is about more than just "superheroes." Comics can be inspirational as well as action-packed, and the great thing about
Runaways
, for instance, is how accessible it is to any age, yet you don't feel like a chump reading it as a 27-year-old dude.
Sim-I
is my first dip into the comic-book world, though I have contributed to Semantink's
The Undergrounds
web-series.
Touchet: Comic strips always seemed like it was in my future. What else could a Calvin & Hobbes-obsessed little artist hope for in his life? In my sophomore year in high school, I entertained my friends with a 3-panel strip I'd make with a Capricorn goat, sometimes guest-starring characters from pop culture. I made over a hundred pages with two strips per page. Even as slapped-together as it all turned out, I literally illustrated to myself how possible it is to do more than just draw a picture with no context.
JP:
How did you wind up collaborating? What's your working relationship like?
Pezzula:
Daniel enjoys monkeys and bananas, so he truly heard the higher calling of
Sim-I
. Really, I believe we happened upon each other's company during a small gathering in San Diego. I enjoyed his sketches and the work he'd done with
The Undergrounds
, and, to be frank, when I started writing
The Undergrounds
I always had his style in mind. I generally write as much as I can of the entire arc, and after careful review with Ben, the script lands on Daniel's desk. He calls me often, though I try not to answer. When he texts, I feel more obligated. Maybe it's because I respond to the written word more than the verbal. I like that Daniel takes his freedom and runs with it, and even when we chat he'll often answer his own question. I'm more like a sounding board, and I can't imagine trying to tell him what to do — it's all about the conversation, talking it out, dealing with what's in the script and making it fully realized on the page through his commonalities and my vague imagination.
Touchet: Considering the hilarious nature of The Undergrounds, we fell into each other's arms, as it were, collaborating whether we liked it or not. And since we did, and do, there wasn't a lot of question that we'd like to explore this work relationship and see where it takes us.
And it's too true that I do end up calling and finally resort to texting Joe with questions, then in-turn answer my own questions. I like the way he thinks, and realize he'll be happy with what answer I asked him for and then gave him. So, legally mandated restraining order-willing, together we manage to get to the bottom of what to do with "our" ideas.
JP: Daniel, I hear your editor didn't even know you could draw until a short time ago. When and why did you finally reveal yourself?
Touchet: Strangely enough, I "exposed" myself to Mr. Glibert once upon a time when he visited me at my day job one evening (yes, I see the irony). I was in the middle of entertaining myself with sketches and the like, and naturally, he was curious. Delighted as a pony to show off my scribbles, I flipped through the pages I had handy, explaining some aspirations I hope to get to one day. I detected then that he seemed to take mental snapshots of my soul and put it his back pocket in case something might come up in the near future. Thankfully, it did.
JP: Who or what are some of your inspirations artistically?
Touchet: Being "inspired" by something or other has often been a funny thing to me, because I can glean inspiration from almost anything, without actually being able to draw a line between the source of inspiration, and what I end up making. I feed off creativity. When I was younger, the Ninja Turtles, in the 7th grade, I'd always been inspired Jim Lee. These days it's Mike Mignola, Guy Davis, Gabriel Bá, Fabio Moon, Ryan Ottley, Eric Powell, Doug TenNapel… heck, even Hergé.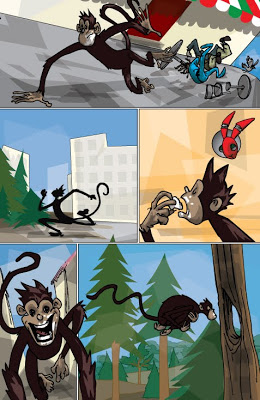 JP:
Daniel, You also work on Semantink's webcomic
The Undergrounds
, was it tough taking on another project considering the webcomic is weekly?
Touchet: Semantink is impressively well-organized. Infectiously so. Almost in a scary, unnatural way that makes you wonder if it's all really just a giant super robot spreadsheet, which would be even cooler to work for, but since these guys are so cool and personable (each and every one) I was jittery with excitement to work on even more with them. The idea of The Undergrounds having a finite time frame was nice, but disappointing. So getting a whiff of another project was welcome.
JP: What do you think are some of the advantages of putting your book out with a smaller publisher versus a larger one?
Pezzula:
Not having dealt with a larger publisher, it's hard to answer fully. However, I will say that Ben has been FANTASTIC to work with. I emphasize the word with because it's always a collaboration. The benefit, I guess, would be that a smaller publisher allows that personal, one-on-one chat session, the dedication to making each book the very best it can be, rather than simply spouting out product. I didn't want
Sim-I
to be a slapstick, junk comic with no point, made only for merchandising or adaptation or whatever. With Semantink, I feel it's about the first "real" project I've worked on as a writer. Feeling special helps dudes like me who are quiet and usually like to blend into the wall.
Touchet: I believe Braveheart put it best when he was riding back and forth on his horse after letting a blind person apply his eye shadow, "Freedom." I like being on the ground floor with Semantink; they're poised to have fun, and I admire their conviction to make a real effort of each property, while giving us our creative space. We're getting the attention we need to make this comic cool. I've always felt Sim-I's as important to them as it is to us.
JP: How will the book be released, as single issues or in graphic novel format? Did you favor one over the other?
Pezzula: I believe the release will happen as single issues. As a reader, I like holding a lot of pages at once. The graphic novel has a different feel, can effect the flow of your reading and total involvement in the story. Since I'm basically catching up on comics, I read most everything as a graphic novel. I think the only exception recently was Incognito, which was decent, but I read four issues in one sitting — more like a novel feel than anything else. On another note, for Sim-I, I think the individual format helps because the stories are more episodic than serial (but still serialized and overarching), you can probably work out, as a new reader, what's going on. If you can't, then maybe you need to obtain the brain of a monkey.
Touchet: To be honest, I'm just excited as all get-out to know this will eventually be a bound book, on my shelf. Narcissistic? Maybe, but I try to draw what I want to see, and it's always for myself.
JP: Other than kids, who do you think Sim-I will appeal to?
Pezzula:
Hopefully not kids. I can't stand them…oh, is this thing on? Listen, I hope anyone who can read, or wants to read, will read this comic book. It will increase your health by burning calories when you laugh; it will make you smile; it will inspire you to play matchmaker and, especially, appreciate the true taste of the sweetest fruit. Honestly, I think anyone who enjoys a laid back afternoon would enjoy the book. And primates.
Touchet: Hopefully, fans of the smaller-press comic The Cryptics, Atomic Robo, NextWave Agents of H.A.T.E., The Umbrella Academy, ZOO annual pass holders…