Jane Means Pain
It's finally official. Dakota Fanning will be playing the sadistic, but angelic looking, Jane in New Moon.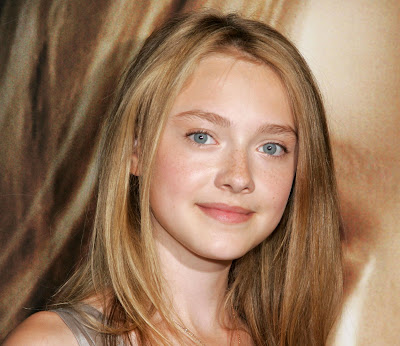 Summit Entertainment confirmed the news to People over the weekend. Absolutely no other details were given about the casting. Filming for the Twilight sequel is supposed to start later this month in Vancouver. However, Fanning will be playing one of the younger Vulturi who call Italy their home. Whether her scenes will actually be filmed there remains to be seen.
Nikki Reed, who plays Rosalie in the films told People, ""We did just get a script. We're shooting the rest of the films back to back." It's the only possible option considering New Moon was given a release date of November 20th and the third film, Eclipse is meant to hit theaters just six months later in June 30, 2010. Hopefully it will also insure Fanning remains looking around the same age for the remaining films, seeing as how she's supposed to play a child-like vampire and all. 
Like everyone else, I heard she was interested in the role but I wanted to wait for confirmation before I wrote about it. I am so excited for this casting. She makes the perfect Jane plus she's a fantastic actress so I know she'll be able to pull off the innocent yet evil routine expertly.
Now, who can we see playing her twin, Alec?