LucasFilm's Bonnie Burton Gets Crafty with STAR WARS
She's a Twitter superstar, a Geek Girl goddess and she's married to R2-D2. She's Bonnie Burton.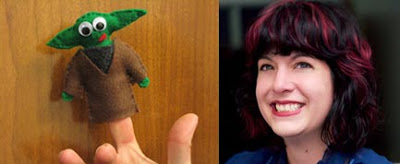 If you don't already know her or haven't guessed by now, Burton works for LucasFilm. She's got one of those jobs everyone who's ever been in love with Star Wars wants; she gets to talk and write about the films and related franchises ALL DAY. Plus, she gets to do side projects like The Star Wars Craft Book. Burton has previously used her vast Star Wars knowledge to write You Can Draw: Star Wars and Draw Star Wars: The Clone Wars but has a lifelong history with crafting that made The Star Wars Craft Book a no-brainer.
Head on over to
Newsarama
to read my interview with the lovely Burton!