MDA Telethon tomorrow!
You know what time it is…TELETHON TIME!! That's right, Labor Day weekend is here which means it's time for the annual MDA Telethon.
Many of you may already be familiar with my affiliation with the Muscular Dystrophy Association. I was born with Spinal Muscular Atrophy, a type of MD, and the organization has supported myself and countless others for years. Last year I attended my TWENTIETH telethon if you can believe it. It was certainly a momentous occasion. And yes, it's what has kept me from attending the famous Dragon*Con down in Atlanta each year. I'm very excited once again to be participating as a co-host for the New York broadcast of the MDA Telethon but of course things are going to be very different this time around.
Besides the fact that the telethon has been cut from 21 hours to a mere 6, the bigger news is that Jerry Lewis, a long-time advocate of MDA, will not be appearing on the show.
It's a huge deal as you can imagine. I'm very disappointed that Jerry will not be on, even if it was just to sing his trademark "You'll Never Walk Alone" at the end of the show. Originally Jerry was going to appear, and I believe make it his final appearance, but that has since changed. I want to address what I've been hearing a lot online, that people are very angry that MDA "kicked Jerry to the curb." To my knowledge, this is not the case. From what I know it was a mutual decision and since neither Jerry or the organization has given an official statement on it, I believe it's unfair to judge the organization so harshly.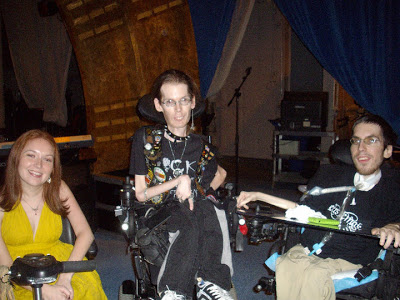 Is the MDA Telethon going to be the same without Jerry? Of course not. Would it have been great to have an official goodbye? Absolutely. But please, I encourage all of you to still watch and donate if you can. I've heard some alarming comments of people boycotting the show because Jerry won't be on. This makes me incredibly sad. Although MDA was put on the map by Jerry Lewis and supported by him a great deal over the years, the show is not about him, it's about finding a cure for these terrible diseases. I even heard David Letterman's band leader Paul Shaffer saying entertainers shouldn't perform on the program to show their solidarity. What an awful and hurtful thing to do to an organization that's trying to help people. Even if there was a "kicking to the curb" moment, which I don't believe there was, I still think it would be wrong to abandon an organization that has done so much good for those afflicted with neuromuscular diseases.
Is it the end of an era? Without a doubt. I'm truly sad that Jerry won't be participating this year. I had always hoped to make it onto the national broadcast and get to meet him in person. I'm also incredibly thankful for all he's done. But times are changing and MDA, like DC Comics, must make changes to keep their organization running far into the future. The changes MDA has made to the show are for the betterment of the organization. More networks will broadcast the telethon if they don't have to block off 21 hours worth of programming time and hopefully more big-name entertainers will perform on the show as well. It's a drastic change but something that I'm sure will continue to evolve over the next few years until they find something that will work.
For my part this year, I will be co-hosting the NY portion of the show along with Ace Young, Russ Salzberg and Brenda Blackman. Things will be hectic I'm sure as the local broadcasts only get two segments per hour and they are even shorter than usual but we'll make it work. And I hope that if you're in the broadcast area for the NY show, which is usually NY/NJ/CT, that you'll tune in and watch for me. I'll be appearing from 8 p.m. through the end of the show at 12 midnight. If not you can always tune in for the national broadcast as well as your local area's breaks.
As always, please give if you can, no matter how much it is. You can do so the day of the show by calling the numbers on your screen or online at MDA's official website. I'll also be doing a big push through social media during the show and if you're on Twitter you can participate with me by using the hashtag #TweetForMD. Also keep an eye on the official MDA Twitter and their hashtag #MDATelethon. Thank you for all your support, not just this weekend but throughout the year at the numerous MDA events near you.