No, Target Is Not Selling Star Wars Dildos But a Nerd Can Dream
Sorry, not sorry.
A customer posted to Target's Facebook page last week when she noticed some Star Wars children's toys resembled some adult toys.

Why yes, those do resemble dildos! But they're definitely not. While I can no longer find the items available on Target's website, they are made by Swimways and are called "Star Wars Dive Characters."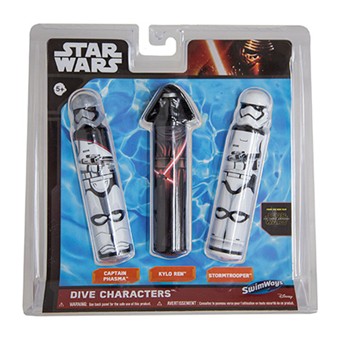 Their description reads:
Star Wars Dive Characters from SwimWays are a 3-pack of officially licensed 3-D molded dive sticks featuring characters from the new Star Wars: The Force Awakens (Episode 7) movie! These fun water toys are great for swim practice to encourage new swimmers, or to play with out of the pool on a rainy day. Not just for little kids, these Star Wars characters make a great gift for the Star Wars collector, too! Three characters in every pack, one each of Kylo Ren, Captain Phasma, and Stormtrooper.
I mean, nothing is stopping anyone from using them how they see fit (and they wouldn't be the first character-based sex toys I've seen) but some of these certainly look like they'd be painful.
For their part, Target replied to Jones saying, "Hi Joni – We apologize for your disappointment. Occasionally, we carry merchandise that some guests may find objectionable, as was your experience. We never want to offend anyone and have shared this with our Merchandise team for review. Thanks. – Stacey"
Jones later followed up for those who were concerned she was actually up in arms writing, "It was assumed by most that I was offended, in all actuality I posted because I found it funny & wanted to share with fellow ADULTS who could appreciate the humor in the whole thing."
In more recent Target dildo related news, someone else posted this on their Facebook today.
(via TheGailyGrind)