Star Wars Land Headed to Disney Parks, a Rogue One Cast Photo, & Branded Makeup!
It's a great time to be a Star Wars fan. New makeup collections will be hitting shelves soon, a Disney addition is on the way, and some awesome people were announced for Rogue One.
Most of us assumed it was inevitable when Disney announced they were acquiring Lucasfilm but I would have put money on a full Star Wars theme park showing up in Florida near Disney's other lands. However at D23, Walt Disney Company Chairman and CEO Bob Iger announced we'd be getting Star Wars *lands* at existing parks: one at Disneyland in Anaheim, California and another at Disney's Hollywood Studios in Orlando, Florida.
Did I mention they're going to be 14-acres each?
I still think it would be well worth their money to branch off but here's what to expect according to StarWars.com:
These authentic lands will have two signature attractions, including the ability to take the controls of one of the most recognizable ships in the galaxy, the Millennium Falcon, on a customized secret mission, and an epic Star Wars adventure that puts guests in the middle of a climactic battle.
They've also promised a "never-before-seen planet, a remote trading port and one of the last stops before wild space where Star Wars characters and their stories come to life." Here's a bit more concept art from Disney/Lucasfilm:
No word yet on when these magical lands will open.
In other, non-movie news, Star Wars is teaming with CoverGirl for a new line of themed cosmetics including lipsticks, mascara, and nail polish.
They've got a tumblr where you can sign up for contests and general updates though you should be seeing the items in stores pretty soon. Right now they're only featuring two specific looks but as you can see from the image there's going to be several more based on the famous female characters from the films.
(via Allure)
And finally, also revealed at D23, the first cast photo of the Gareth Edwards' directed Star Wars spinoff film Rogue One.
The mission is underway. #StarWars: #RogueOne has begun principal photography! pic.twitter.com/cmPWYg6v2x

— Walt Disney Studios (@DisneyStudios) August 16, 2015
We already knew Felicity Jones (center of photo) would be leading the cast but here we have (left to right) Riz Ahmed, Diego Luna, Jones, Jiang Wen, and Donnie Yen (Photo Credit: Jonathan Olley ©Lucasfilm 2016). Not pictured but also announced for the film? Forest Whitaker, Hannibal's Mads Mikkelsen, and Firefly's Alan Tudyk (who will be doing performance capture).
Excuse me for a moment…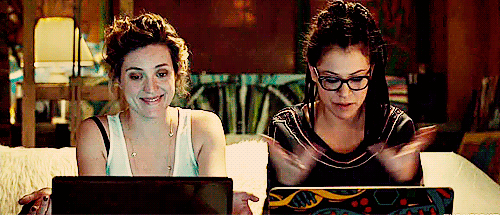 Right now it appears as if there's only one woman in the cast, which is extremely odd, but overall it's extremely diverse which is fantastic to see. StarWars.com reports:
"Rogue One takes place before the events of Star Wars: A New Hope and will be a departure from the saga films but have elements that are familiar to the Star Wars universe," says Kathleen Kennedy. "It goes into new territory, exploring the galactic struggle from a ground-war perspective while maintaining that essential Star Wars feel that fans have come to know. Gareth is such an innovative director and I'm so excited to be working with him and the extraordinary ensemble cast he's selected for 'Rogue One.'"

Veteran ILM visual effects supervisor John Knoll, who shares a long history with the Star Wars movies, dating back to the mid-1990s, originated the idea for the movie.
Rogue One is set to be released December 16, 2016.