STELLA!!!!
They say, "You can't go home again." Does that apply to college too? As my friends and I discovered last night, turns out you can go back to college. You'll just feel like a dad walking in on his teenage daughter's sleep-over if you do.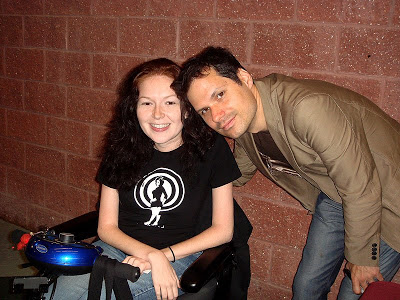 Why would my friends and I go back to visit our alum Ramapo College you ask? My friend Kevin found out Michael Ian Black, best known for VH1's I Love the…series, Wet Hot American Summer, Ed and the comedy group Stella, was going to be appearing in our very own Berrie Center. Quite an achievement considering the most exciting thing I've ever seen there was an opera called Lucia di Lammermoor. I only attended that because it contained the opera piece "Il dolce suono" that was sung by the Diva Plavalaguna in my favorite movie The Fifth Element. You can see where my cultural priorities lie.
Our plan was to see Michael perform then head over to the Birch and get Late Night. The Birch is one of the dining halls at Ramapo. Late Night was the greatest thing ever invented, a meal after 10 o'clock. We've talked about going back for Late Night before but we couldn't bring ourselves to be that pathetic so seeing Michael first was a perfect excuse. Tickets were actually sold out for the show when we arrived but Kevin was able to somehow convince them to give us "standing-room." I didn't mind, I always bring my own seating with me. :)
Besides the fact that this story involves me, you may be wondering how it qualifies making a blog entry for it here on my nerd blog. Michael was about half-way through his "no material" act when he told us a story about a recent trip to the airport. It went something like this. He got to the gate and, clearly through the very large windows, could see his plane was not there yet. A woman standing next to him asked, "Do you think we'll be boarding soon?" He debated whether or not he should joke with the woman and couldn't resist. "Not unless we're traveling on Wonder Woman's invisible jet," he replied. She was not amused but I howled for that one.
Late Night was a strange yet wonderful experience. We noticed the same people working there four years later. My friend and I fell back into our usual routine of helping me get my food onto my tray. After grabbing just about every culinary masterpiece they had to offer and getting jealous because they now have Cookie Crisp we realized how awkward this all was and left.
Besides the Wonder Woman knowledge he possesses, my other favorite selection from last nights performance was when Michael talked about feuds he's started with other writers (David Sedaris and Tucker Max)
on his blog
 in order to garner more attention for his own book, "
My Custom Van: And 50 Other Mind-Blowing Essays that Will Blow Your Mind All Over Your Face
." It gave me an interesting idea. Michael challenged Tucker to a fight. I'm going to challenge Michael Ian Black to a date. Yes, I am aware he's a married man with children and yes, I'm obviously aware I have a boyfriend but seeing as how Michael took my stand-up virginity last night I say he owes me one. What do you say Michael?