Talking The Walking Dead
I thought I was prepared. I'd read the comics. I'd ordered in. I turned all the lights off. And then I saw it. A female zombie crawling along the ground with only the upper half of her body left. I immediately put down my food. It's official. I've wussed out.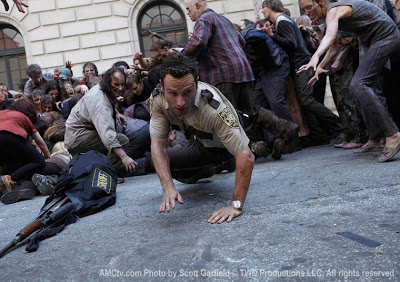 I'm really not a squeamish person at all but last night seems to have changed all that. In case you've been living under a rock, the event I'm referring to last night was the premiere of The Walking Dead on AMC. Let me start off by saying, it was FREAKING OUT OF THIS WORLD GOOD. Like many others I expected it to be and was not disappointed. According to The Hollywood Reporter, the show broke AMC's ratings records with 5.3 million people tuning in for the 90-minute premiere. And, if you count the two subsequent repeat viewings that night it had 8.3 million according to Robert Kirkman, writer of the original comic (who must be pretty happy right now). This is fantastic news for comic book adaptations.
I haven't read all of
The Walking Dead
yet but I have read the first few books so I had a good idea what was coming in this episode. The atmosphere was perfect. You can thank director Frank Darabont for that. He expressed the exact tone of the comic and made the introduction to this new world easy for non-readers. My hope is that the non-comic reading zombie fans out there will love the show so much that they'll go pick up the comics as a result. (
In which case…
)
As far as my weak stomach is concerned, well, you can thank the little lady above. I was doing fine until we got to her. You see where the picture cuts off? Yeah, that's basically where she ends. I never thought it would happen to me but I had to put down my food after that scene. The rest of the premiere lends itself to the usual zombie look/violence but for some reason this did it to me. Regardless, the zombies looked amazing. I've never seen them look so…for lack of a better word, normal. It felt acceptable that they could be walking the streets.
This is fantastic news for comic book adaptations. It opens the door for comic series that wouldn't stand a chance of making it in the theaters but just might find a perfect home in television. Take for instance
Fables
. Though it was
announced late 2008
it would become a series on ABC and has yet to be developed, it will allow for continual storytelling far past one two-hour film.
The Washington Post
asks, "Have we found our next
Lost
?" Although
The Walking Dead
is on cable I'd have to say yes. This is the kind of show that will keep audiences riveted from week to week, especially if they've never picked up the comic. The 90-minute premiere felt like a whole movie and we've barely scratched the tip of the iceberg. We've all got a lot to look forward to as long as AMC can keep up this level of quality television. I'm just not sure if my heart can take it every week. Or my stomach.