Universal's Wizarding World of Harry Potter Set to Evanesco the Dragon Challenge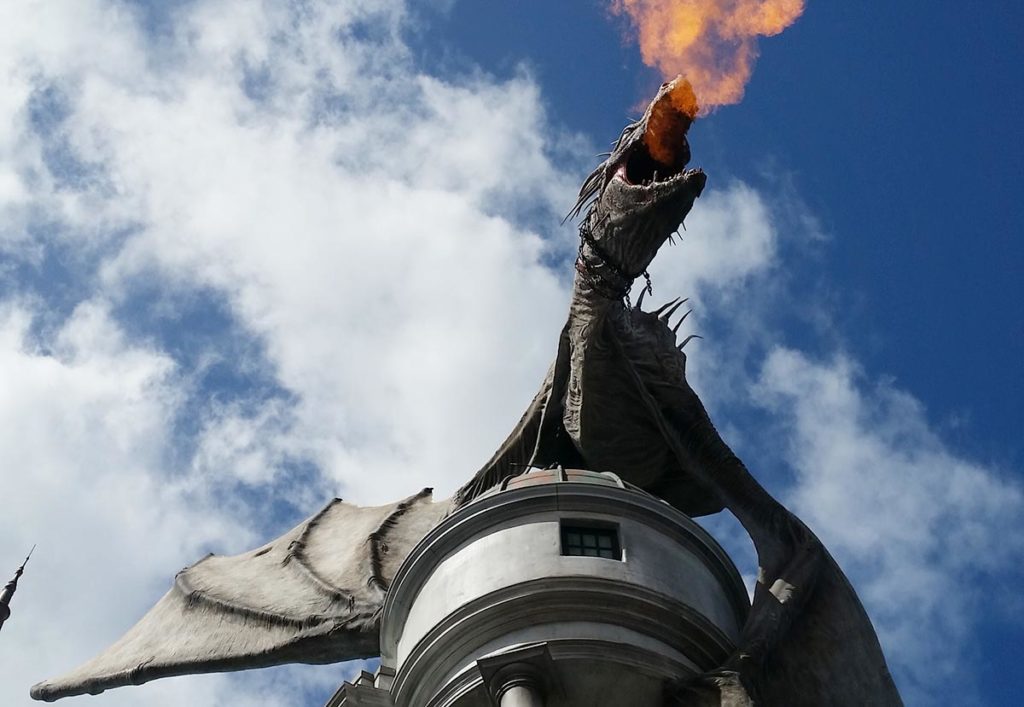 It will probably take a lot of wizards but Universal Orlando's Wizarding World of Harry Potter is going to use one heck of a disappearing spell on their Dragon Challenge roller coaster this year.
Yesterday The Orlando Sentinel reported a new ride is set to debut at Universal's Islands of Adventure in 2019. The Wizarding World of Harry Potter's Dragon Challenge, a duel roller coaster experience, is being phased out this September (2017).
They write, "The two-sided, intertwined, inverted coaster was one of the original rides for IOA's grand opening in 1999. The attraction was then called Dueling Dragons; its name was changed when Wizarding World opened — and absorbed part of the Lost Continent land — in 2010." But the dueling aspect of the ride made for some dangerous close calls through the years, even causing several injuries, which led the park to start the coasters at different times starting in 2011.
The official blog of Universal Orlando Resort gave an idea of what's to replace the ride but not many specifics:
This all-new thrill ride will take you deeper into J.K. Rowling's Wizarding World, where you will encounter some of your favorite characters and creatures. It'll be unlike anything we've ever done before and it will be fun for the entire family.

The new attraction will be one of the most highly-themed coaster experiences we've created. It will combine a new level of storytelling with an action-packed adventure…and a few surprises along the way.

Our award-winning Universal Creative team is once again collaborating with Warner Bros. and the production design team from the Harry Potter films to bring this new coaster experience to life.

This ride is going to redefine the category and transport you to thrilling places, drawing you into even more exciting adventures within the wizarding world. It's going to be the perfect addition to Hogsmeade.
I enjoyed the roller coasters but the Potter-specific rides at Wizarding World are much more pleasurable for their immersive experiences. I have no doubt a rebuild in that area will offer something very exciting (though it's not clear at this time if the coasters are being taken down or just rebranded). But what could it be?
My bets are on a Fantastic Beasts and Where to Find Them based attraction. The first film has debuted last year, the sequel is filming as we speak, and there are a total of five films planned for the series according to Rowling. It's the only thing that really makes sense in my mind… unless they want to make some sort of high-flying Quidditch pitch, which I would also be down for.
The last day of operation for the Dragon Challenge is Monday, September 4.
(top pic via me from my last trip to Universal Orlando)