We May Be Getting More Hocus Pocus But Without the Magic of the Original Cast
Who lit the Black Flame Candle this time?
Bette Midler, Sarah Jessica Parker and Kathy Najimy starred as Winifred Sanderson, Sarah Sanderson, and Mary Sanderson (collectively known as the evil Sanderson sisters) in 1993's Hocus Pocus. The film also featured Omri Katz as Max Dennison, Thora Birch as his sister Dani, Vinessa Shaw as Allison, Sean Murray as Thackery Binx (cat version voiced by Jason Marsden), the incomparable Doug Jones as Billy Butcherson, and cameos from Garry Marshall and Penny Marshall.
Directed by Kenny Ortega and written by Neil Cuthbert and Mick Garris (based on a story by Garris and David Kirschner), Hocus Pocus was originally set to be a TV movie but was brought to the big screen by Disney.
I am an absolute fiend for Hocus Pocus. I loved it when it was first released and I watch it every year. I first wrote about work on a Hocus Pocus sequel back in 2012 at The Mary Sue. At that time the continuation was said to be named Hocus Pocus 2: Rise of the Elderwitch.
Then in 2014 I wrote about a report that Tina Fey and her company Little Stranger were producing the sequel which Deadline later reported as false. That was said to be an "Untitled Witch Project" but nothing ever rose from that as far as I know. Later that same year Midler revealed she and her fictional sisters were more than willing to reprise their roles. And I mean, hello, Midler is super serious about her Hocus Pocus love, folks.
Today I met my idol. @BetteMidler thank you for taking the time to talk to me & pose with me. #BetteMidler #Hulaween pic.twitter.com/TH8nSDbbZM

— Alexander Kacala (@faymeproblems) October 29, 2016
So that brings us to the latest news which broke last week at Deadline. They say the Disney Channel is in early development on what sounds like a remake.
I say "sounds like" because Deadline didn't use that exact word. The headline says "Hocus Pocus TV Movie In Works At Disney Channel" and they go on to say, "The new take is being written by Scarlett Lacey (The Royals), with David Kirschner, producer on the original movie, on board to executive produce," while using the words "reimagining" and "new iteration."
One thing is for sure, they say it will have a new cast and director so "reimagining" could theoretically mean sequel as well. And just prior to this report Garris spoke to Forbes about the film saying, "There have been rumors of a Hocus Pocus sequel for the last 10 years that will not die. I have heard they are developing the script, I haven't been involved in it but I think there will be a sequel it might be for Disney Channel or Freeform or ABC. I think it will be for television but I hear that it is moving ahead."
When asked if the original cast would be involved he replied, "I think they are, yeah, I think they are. If they don't do that I think it would be a big mistake because all three of them are still so incredibly potent and powerful and great performers and who else can recreate those characters?" Preaching to the choir, buddy.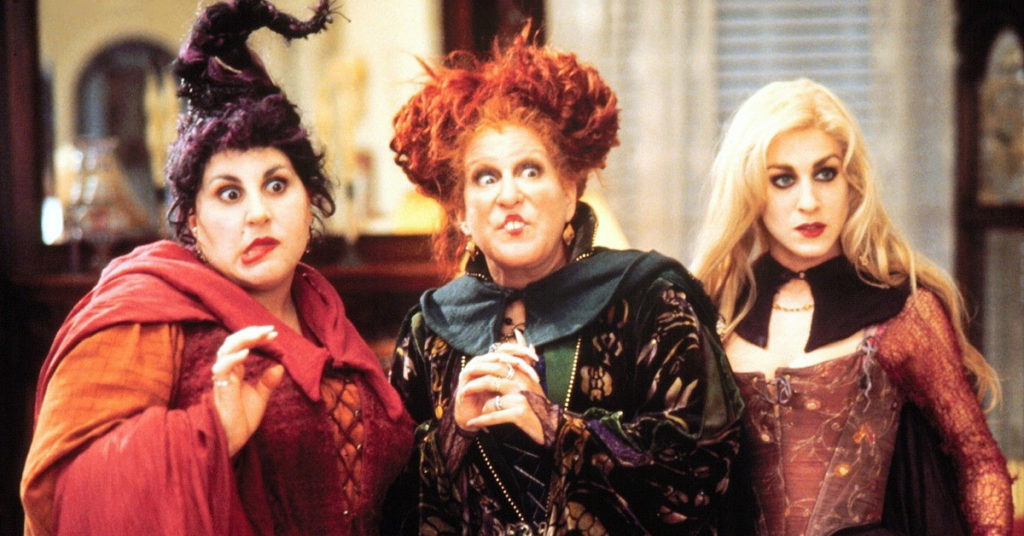 I'm never thrilled with the idea of remakes or returning to a franchise several decades later but if you're going to bring us more Hocus Pocus, do it with Midler, Parker, and Najimy or don't do it at all. The film is played every Halloween and still has an incredble fanbase. Sanderson sisters costumes are currently sold. Even BILLY masks are sold. Do right by us, Disney or we'll put a spell on you!