[UPDATED] Where You Can Find Me at New York Comic Con 2016
I'll be attending New York Comic Con this year for just two days. Here's where you can find me!
Thursday I'll be at the convention taking a look around the main show floor and artist alley all day chatting with folks I know. The photo above is what I currently look like in case you haven't seen me recently (still have the motorized scooter too of course!). As always, please feel free to come up and say hello (giving out usernames/twitter handles is usually a good way to help me recognize you, FYI)
[UPDATE: Due to changes out of my control I won't be taking part in the #BlackComicsMonth panel. Please do go and support if you are able! You can still find me at the other and on the show floor Friday. Apologies for any inconvenience.]
I'm on two panels one this year on Friday. Info can be found here, otherwise:
October 07, 2016, 6:45 PM – 7:45 PM, Room 1A18 – Moving Beyond The Strong Female Character

Representation is important in all forms of media – so how do we go about making sure that creators continue to improve their work? It's not enough to just make Strong Female Characters – we need well-written, fully-developed female character in our comics, video games, TV shows and movies. Join our Panelists as they chat about their favorite lady characters in media, what they think could be improved, and how we can go about making those changes.

Sam Maggs moderates myself, Jody Houser, Amy Chu, and Jen Bartel!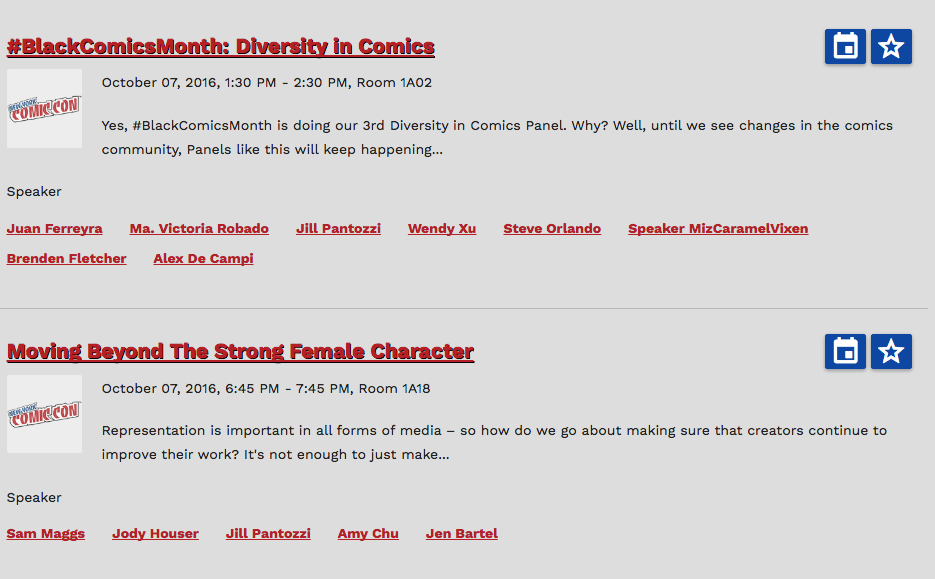 And here's all the details on the other:
October 07, 2016, 1:30 PM – 2:30 PM, Room 1A02 – #BlackComicsMonth: Diversity in Comics

Yes, #BlackComicsMonth is doing our 3rd Diversity in Comics Panel. Why? Well, until we see changes in the comics community, Panels like this will keep happening. "Diversity" is not a buzzword, "Diversity" is real life for many of us. If someone is disabled, or living with mental illness, a member of the LGBTQIA community, non-binary, Person of Color, etc – it's not "Diversity"…it's LIFE! We just want to be represented in comics correctly. Join our Panel as we discuss why having inclusivity/representation, sorry, "Diversity" in comics is important!

MizCaramelVixen moderates with myself, Juan Ferreyra, Ma. Victoria Robado, Wendy Xu, Steve Orlando, and Brenden Fletcher. (Note: I was originally moderating this one but there's been a last minute change. Apologies!) MizCaramelVixen is going to have TONS of comics to give away at this one thanks to donations from Dark Horse, Lion Forge, The Comic Book Shop, @EscapePodComics
I'm not going to be at the show Saturday or Sunday because of my normal work schedule now but if there are any events around town you might get lucky and spot me.
Will you be attending NYCC this year? What are you looking forward to?