5 Minute Marvels
It's well-known that my drawing skills are on par with your
average 8-year-old
so when I heard about Tim Miner's unique artistic experiment,
5 Minute Marvels
, I was really excited to know I wouldn't be made to look
too
bad if I submitted something. After all, my closest drawing companions are 8 and 4.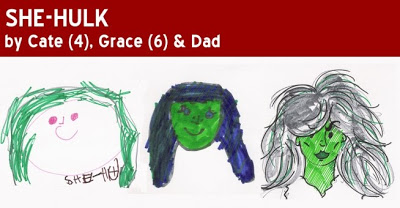 Tim, along with his daughters Grace, 6, and Cate, 4, started a nightly tradition. The idea is simple; choose a comic book character and draw them for just five minutes. They do this each night before bed and have compiled quite the impressive portfolio. Volstagg, Big Bear, Dazzler, the Legion of Super-Pets are just some of the characters they've drawn so far.
Now, Tim and his girls want you to join in the fun. Get together with a child in your life and give it a try. You can
submit your work to Tim
for the blog or just do it for the joy of art and comics. Here are the rules:
#1 – Set the clock for five minutes and stick to it. There's no huge time commitment here. At just five minutes, it's easy to find the time to pick a superhero or a supervillain and draw with your child … cousin … neice/nephew … neighbor … student … etc.

#2 Check your self-consciousness at the door. When you're a kid, you'll draw for hours with no thought to your skills. You were good. You just knew it. It was all about the joy of drawing and imagining. When you're an adult … you worry … you fret … you criticize. But, just remember: No matter what … the kid you're drawing with thinks you're awesome. Just draw. And, with only five minutes between you … there's no time to be a perfectionist.

#3 Talk while you draw. Talk about the hero or villain you're drawing. If you know a lot about comics, share it. If the kid knows more, ask questions. If the only thing you both know is "Spider-Man is cool," talk about that.

#4 Have fun. Umm … I think I'll leave this up to you.

#5 Draw tomorrow. The only thing better than sharing the first "5 Minute Marvel" with the child in your life is … the second one.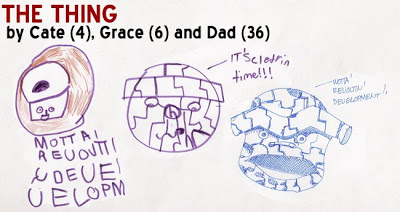 Tim also runs a comic blog called
Marvel Smart Ass
where he shares his love of all things Marvel and has gotten a few notable comic folks to get in on the 5 Minute Marvels experiment. Colleen Coover and Jim McCann to name a few. I wouldn't be surprised if he gets more as time goes on, this is a fantastic idea.
I know a lot of my readers have kids and that some of you would be very into this *cough*Randy*cough* so I hope you try it out. The next time I hang with my nieces we are so gonna draw Batman. And Zatanna. And Dex-Starr. And maybe Geoff Johns.