Accio Law & Order SVU!
If you're a big Harry Potter fan you probably own a magic wand. Whether you made it yourself, bought one of those plastic toy versions or an expensive wooden replica imagination only goes so far. How would you like a real magic wand? Stop laughing. I'm serious.
It's the ultimate toy for the big kid in all of us and it's called the Kymera Wand. It was invented by two British individuals named Chris Barnardo and Richard Black who got their inspiration from, you guessed it, Harry Potter. "At last, the worlds FIRST magic wand is now available for you to buy and own. Perfectly balanced in the hand and weighted for accuracy, the Kymera wand will allow you to impress and amaze your friends and family with its specially developed 'action at a distance' capabilities," says their website. In Muggle terms? It's a remote control.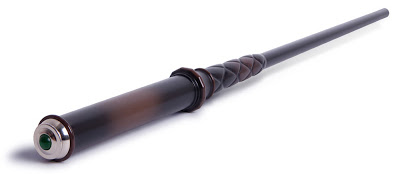 "Designed to look like a wizard's wand it can be used as a remote for televisions, hi-fis, DVD players, laptops and even remote-controlled light switches and curtains," says the UK's
Daily Mail
. Thirteen different flicks of the wrist will give you all the utilities you need. "It uses movement control technology similar to the Nintendo Wii, and can 'learn' the infra-red codes from existing remotes and assign each command a gesture." Check out a
demonstration of the movements
.
More specifically, here's the technology inside, "The wand runs on two AAA batteries and enters a low-power 'sleep mode' after 60 seconds of inactivity. It uses a three-axis accelerometer to detect movement, similar to technology in mobile phones where a picture turns to remain upright when the phone is rotated. A tiny piece of silicon, the size of a grain of sugar, detects which way up the wand is and interprets its movements."
"We designed the whole thing to look very quaint with an emphasis on authenticity, so the manual looks like old parchment and the wand has no visible seams or screws," said Barnardo. In fact the website itself screams wizarding world from the clickable hodge-podge design to their resident "adventurer" (wizard?) Sir Richard Barons, who had this to say:
The action and reliability of the magic wand will compliment the diligent user, who with patience and practice may attain a wholly enchanting level of skilful operation, as would befit the most accomplished wizard or witch.

. . . If you are lucky enough to own one of the few Kymera Wands that are to be made, you will join with me in being a pioneer of a New Magical Age, and together with a single joyous flourish, we will cast aside the rather pedestrian need to exert one's self in the dreary experience of pressing a remote control button.
According to the Daily Mail, more than 10,000 wands have been sold in 41 countries since it's launch just over two months ago. The Kymera runs for £49.95 or around $80 depending on where you purchase it. Barnardo said half of their orders come from the United States and really, I'm not surprised in the least. I want one. And you thought you needed a magic wand to summon the missing remote. What happens when you lose the magic wand?