Aidan Turner talks The Hobbit and Being Human
Being Human is the talk of the town lately. Not to mention the look of the town (there's posters for it all over NYC). New fans are discovering the vampire, werewolf, ghost-living together concept for the first time thanks to the new U.S. version, while others enjoyed the premiere of Season 3 on BBC America recently. The vampire heart-throb from the BBC, Aidan Turner is not only basking in the success of the hit show, he's gearing up for a role in one of the most highly-anticipated films coming out in the next few years – The Hobbit.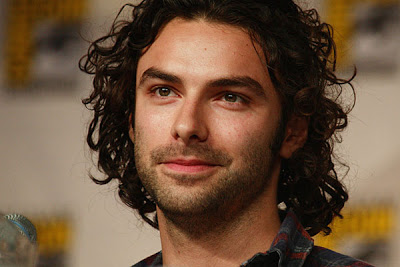 While I could easily invision a clean-shaven Turner as one of the Elves in the tale, he's actually taking on the role of one of the Dwarves. Kili to be exact. On set, he recently spoke with Entertainment Weekly (Be careful if you click over to read the entire piece on EW, there are spoilers for several episodes into Season 3.) about his particularly un-shaven appearance. "I'm growing out the beard. We're giving it a chance," he said, "Famously in the books, the dwarves have really long beards, so we're just trying stuff out and seeing what it looks like."
Turner mentioned he's currently in dwarf boot-camp to prepare for the role. "I can't really give too much away," he said, "But it's pretty much everything. It's physical training and everything you can imagine, really. I guess just working as an actor helps you for these things. It's more physical than anything else, but there's dialect coaching and all those kind of things."
The actor said his Being Human co-stars are "thrilled" for him to be taking on Kili and that this is a busy season for Mitchell on the BBC show. "There is this whole host of things that he gets tied up with," he said. "He's all over the place, feeling so guilty about so many other things."
In the first episode, Turner's character was told he's going to be killed by a "wolf-shaped bullet," i.e. a werewolf, sometime in the near future. Does he know who it will be? "I would pretty much have to know, wouldn't I? [Laughs] Can I tell you? Probably not." He did, however, speak of a new werewolf in the gang's midst, McNair, played by Robson Green. "He's fantastic, and his character is amazing. McNair isn't aware that there are many other werewolves, and George isn't either, and then they cross paths and open up the doors to this sordid underground torture ring where vampires get werewolves to fight each other."
With the prophetic revelation of his possible demise, fans are left to wonder whether Turner will be sticking around for Season 4, especially with a film career sure to rocket off soon. "I don't think until the first movie comes out that anything is really going to change. I'm just going to keep working," he said, also saying he is willing to return to the show if schedules allow. "It's a long shoot over here for The Hobbit. It's two movies. We haven't talked yet about dates for series four of Being Human. It's so up in the air and it's so far away that I can't really commit to anything."
A new episode of the U.S. Being Human airs tonight on Syfy and you can catch Season 3 of the original on BBC America's Supernatural Saturdays.