Architecture was meant to be enjoyed.
Clap! Clap! It's time to dance your cares away. The Fraggles are back.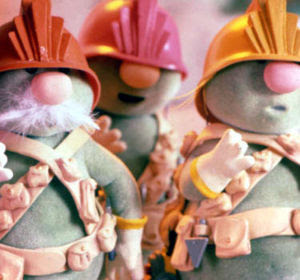 All of the original Fraggles (Gobo, Mokey, Red, Wembley, Boober) will be back for the film in which they venture outside their home and into the real world. They believe humans are aliens. No word yet on who those humans will be or if my favorite characters, The Doozers, will have a role. Personally, I think The Rock should guest-star.
It's been a long time since I've watched Fraggle Rock and I only ever got to watch the last season or so. My family didn't get HBO until 1987, it's last year on air. But I love it and I love all the Muppet movies. I think it's a shame they've slipped our of popularity in the last ten years, probably because of all the animated features to have arrived in those years. Though I have to admit, a little part of me has always been scared by some Jim Henson's Muppets. For every cute Muppet who made me want to eat construction (The Doozers), there was another who made me want to hide under my bed (
Skeksis
). It was Marjory the Trash Heap in Fraggle Rock.
Hopefully I'll be able to handle her better now that I'm 25. 
Probably not.
digg_url = 'https://thenerdybird.com/2008/05/architecture-was-meant-to-be-enjoyed.html';