Arrow's Amell: If You're Going on the Attack For Fictional Characters You're Probably Not Real Fans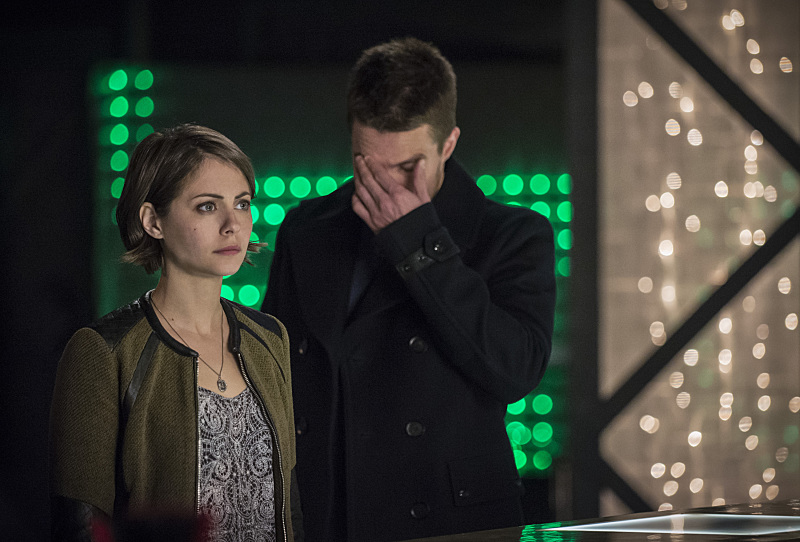 Arrow's Stephen Amell recently spoke with Larry King about both his social media and real world interactions with fans. Guess which he considers to be more positive?
The last two weeks especially have been heavy with conversation about fans and fandom. Both in those campaigning for progressive change in the media they pay for and consume ravenously as well as toxic and abusive behavior. While there may be crossover between those two factions, far too often they're lumped in the same group and actors and creators have a tendency to focus on the bad seeds. Good, critical voices and thoughts are being pushed aside more and more by logical fallacies or perhaps even as an excuse to ignore thoughtful responses for the sake of remaining untouched by critiques.
Amell told King:
You know the internet can be a negative place. The reason that I don't consider Twitter to be a very viable social media platform is because there's no accountability, there's no requirement for anything but anonymity and that's not to say that people can't have good opinions there but I think largely it's noise.
It's true, there is a lot of noise but I'd disagree with Amell about it being a viable social media platform. It's why I was disappointed in Tina Fey last year basically writing off online criticisms. There are a lot of good things being said by a lot of thoughtful people who want more out of their media.
King asked Amell specifically about Twitter and fandom going too far. Here's what he had to say:
I think that there's sections of the fandom that take to liking another character by way of attacking, by liking a certain character by way of attacking another character. All that being said, I think that Twitter, largely, is overblown. I'm not saying that these people aren't passionate and I'm not saying that their opinions shouldn't matter but I do think that their voices tend to be so loud that we think that the crowd is much bigger than it actually is. I happen to think that it's much smaller, that I think most people still enjoy a show in the traditional way which is to watch it and not to tweet constantly throughout it.
Sure, there are still more people off social media than there are on but I think a lot of The CW's audience is online and highly invested in their characters. King followed up later asking why has internet reaction gotten so nasty?
It's gotten decidedly negative because for whatever reason different…people that are fans of the show have seemed to split off into different factions but again I really do think that it's a few people with very loud voices and I feel like if you're going on the attack for fictional characters that you're probably not real fans of the show.
It's clear to see Amell is talking specifically about individuals who do "bad things" with their social media presence, not those who are simply upset their favorite couple are no longer together (and it's important to remember just what kind of impact fictional stories have on us). But these conversations are easily muddled.
King also asked Amell what his interaction was like with fans in person:
Couldn't be better. And that's why I don't take stuff like Twitter that seriously because the people that I meet, if they're passionate about the show in a positive or a negative way they reason their position out to me in a very relaxed, calm way that's much longer than 140 characters. And then we can talk about it. But I think ultimately having passion one way or another about a show is important.
Of course, most online interactions will never compare to speaking to someone face to face. But it's very important to remember social media is home to a lot of younger and marginalized voices. Voices who can't necessarily get out to meet Amell in person. This is their outlet. This is their direct connection to those they admire.
Amell is no stranger to both sides of the internet coin (and yes, it's important to note harassment is an internet-wide issue, not a fandom-specific one). He often receives praise from fans and uses his reach to promote him and his co-stars work but he's also gotten into hot water by equating stereotyping Texans with stereotyping Ahmed Mohamed, the young boy arrested for bringing a homemade clock to school.
The actor eventually left Twitter for a short bit but returned and made things worse by calling the reaction to this thoughtless words "fake cyber rage." I'm sure he was getting a ton of unfiltered anger at the time but he was also missing some very valuable learning experiences by ignoring most of his fans. It's an important balance a lot of actors and creators have yet to learn and work needs to be done on both sides.