Artists Alley
With only one illustration in my sketchbook so far I was hoping the New York Comic Con would be a very productive weekend. Not in my wildest dreams did I think it would be THIS productive. Since I wasn't able to get on the commission list for the one artist I most wanted I decided to focus on getting quick sketches from several others I love. Here is just a sampling…
Franco Aureliani and Art Baltazar from Tiny Titans were super nice and extremely entertaining. I got a sketch from both of them but Art's wins out because he is the first artist to make the decision to draw me in my scooter.
Dustin's work on Detective Comics has been nothing short of breathtaking in my opinion. He was a pleasure to talk to and had some great prints for sale including this GORGEOUS redhead spread. Nice meeting you!
Mouse Guard is one of my favorite comics but since I've met David before and already got the mouse sketch out of my system (at least for now) so I was excited to see how he'd draw me. How cute am I? He had a great print for sale featuring a mouse on top of gaming dice. I couldn't resist.
I've been entertained lately by his observations on Twitter but I enjoy all of his artwork. When I asked him to draw me as a zombie/corpse his response was, "Really? It's not going to be pretty." I love it.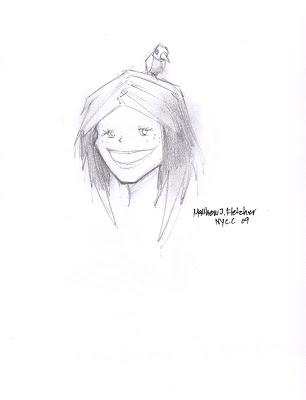 Matthew and Christopher Uminga shared a table in Artists Alley. I'd never heard of them but their unique portfolios pulled me in. They were cool guys and Christopher's sketch of me was pretty freaking adorable but I'm posting Matthew's because he gave The Nerdy Bird an actual bird.
My favorite sketch of the weekend and not just because Buffy artist Georges Jeanty named me "Jilly the Vampire Slayer," it's just beautiful and natural. He wasn't around early on Friday and I almost ran some people over trying to get to him when he finally arrived. He was already swamped so I left my book with him after he did a preliminary sketch of my face. I went out to dinner and forgot the convention floor closed before the panels did. He was gone for the day and I couldn't remember if I'd ever written my name on my book. Eeek! I made a B-line to him the next afternoon and he handed it right over. Safe and sound. I was a happy Nerdy Bird.
For a complete look at all my NYCC 09 sketches head on over to my Myspace.