At the opera tonight…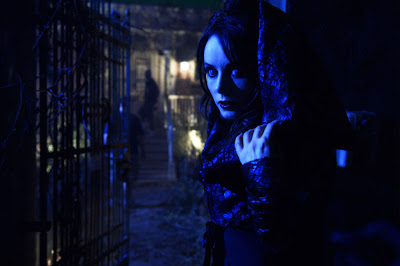 What do you get when you mix the Rocky Horror Picture Show, Minority Report and Paris Hilton? Something you've never imagined in your wildest dreams for sure. Repo! The Genetic Opera is the new fantasy/horror/sci-fi/musical from Lionsgate and I, for one, am intrigued. In the future, organ failure has become an epidemic. You can get a new lung, kydney, eye, etc. but you better be able to be pay for it lest the Repo Man comes to take it back. Without anesthesia.
The film opens in limited release November 7, 2008 but you can catch a sneak preview of the songs today only.
The soundtrack is now streaming online on the official site
. It features the vocal stylings of all the films stars including the amazing Sarah Brightman. And yes, Paris Hilton. The jury is still out on that one. But what you should really be excited for is the Repo Man himself, Anthony Stewart Head. Yes, you've heard Giles sing before but never like this. Alexa Vega (Spy Kids), Bill Moseley (The Devil's Rejects) and Paul Sorvino also join the eclectic cast. 
The music is all original and was recorded by a veritable who's who in the rock industry. Performances include Joan Jett, Richard Patrick (Filter), Stephen Perkins (Jane's Addiction), Clown (Slipknot), Ray Luzier (Army of Anyone), Brian Young (David Lee Roth's band), Sonny Moore (From First to Last), Richard Fortus (Guns & Roses), David J (Bauhaus/Love & Rockets), Daniel Ash (Love & Rockets), Blasko (Ozzy Osbourne), Tommy Clefetus (Rob Zombie's band), Melora Creager (Rasputina). Singer/songwriter Poe also lends her voice to the soundtrack.
Go check it out for a few minutes and see what you think. There's also a forum where you can chat with other listeners live. Don't forget to come back here at the end of the month for a review of the film itself.  No opera glasses needed.