Back to Back to The Future
Doc: Marty! You've gotta come back with me!
Marty: Where?
Doc: Back to the future!
And that's where you need to go this weekend.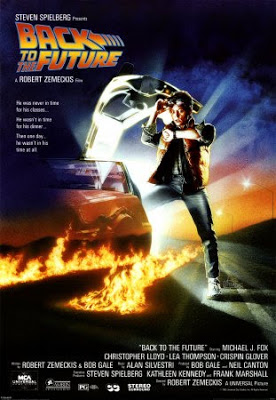 For two nights and two showings only, AMC Theaters is re-releasing Back To The Future in honor of its 25th Anniversary. All guests will receive a full-size poster to commemorate the limited release with their ticket purchase. While supplies last of course. According to AMC:
Each theatre will also have special movie-related giveaways prior to the movie as a part of the experience. We're excited to bring this digitally remastered film back for a new generation to see the film as it was intended – up on the big screen. Bring your family to experience a film that stands the test of time. Or, flash back with friends and recreate your original experience with new digital technology…before it fades away.
This Saturday the 23rd at 12:30 p.m. and Monday the 25th (the exact anniversary date) at 7:00 p.m. are your only chances to see it on the big screen for what is likely to be a long while. Unless you have a 52′ HDTV and purchase the new Blu-ray Back To The Future: 25th Anniversary Trilogy DVD and watch it at home. Which, while glorious, is nothing like the theater experience.
I'm ready to hop in the DeLorean, are you?