Bug-Bee-Picked-Up-By-Showtime
One trade of the Vertigo title Exterminators was enough for me. Not that it was bad, it just grossed me out way too much to keep reading. But if you're into that sort of thing you'll be happy to know the title has been picked up for development by Showtime.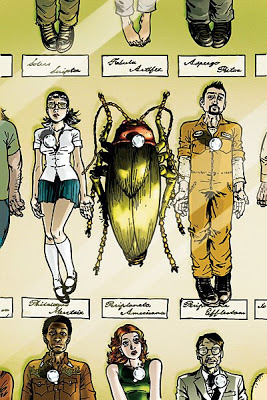 The Hollywood Reporter
announced the producer of Dexter, Sarah Colleton, is on-board to take Exterminators from the page to the small screen. "In it's Showtime incarnation, Exterminators will revolve around the Bug-Bee-Gone crew, an extended dysfunctional family of exterminators whose greatest enemies aren't the insects and rodents they meet and kill on a daily basis but rather their own self doubts, vices and inner demons," reports THR.  They also compare it to "Six Feet Under in the world of pest control."
The initial pitch for Exterminators was originally planned for TV by creator Simon Oliver who used to work in the industry. After further consideration he decided it would be better suited for comics. Originally, Exterminators was planned as a 50-issue run but has since been canceled. The series ends with issue #30 this month. If the Showtime series is a hit we're sure to see what was intended had the series run it's full course.