Carnivores rule the DC Universe
I felt so bad for Buddy Baker in Justice League of America #24. The vegetarian Animal Man, who's been having enough problems with his powers lately, inadvertently chowed down on a chicken leg. If Grant Morrison were dead, he'd be rolling in his grave, since he's not (thankfully) I'd imagine he's rolling in his snazzy designer suits. I considered writing something about that incident but I let it slide. However, I could not remain silent when yet another DC vegetarian went down. Down into a bowl of chili.
Ellen shops at the Ren Faire chicken leg store.
Green Arrow/Black Canary #13 focuses mainly on Speedy and Dodger going out on a date but we get a glimpse of Connor's first day back at home after having been kidnapped and experimented on by Doctor Sivana. He's still sort of out of it which is to be expected, he was in a coma for a while. He finally comes out of his room and tells Ollie and Dinah he's hungry. That's a good sign, right?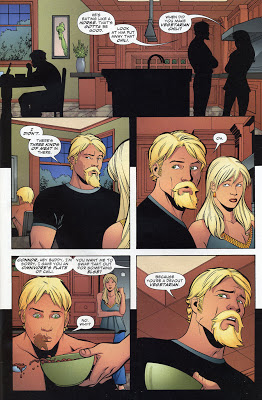 Ollie never taught Connor to use his napkin. Oh wait, he was an absent father.
Wrong. Unlike Buddy, who it appears is being played with by Anansi, Connor has no memory of ever having been a vegetarian. Or a Buddhist. Or an archer. Or a crime fighter. Hmm, ok, it seems he's got a lot of stuff to work out. Plus we also found out he's got some new healing powers when his foot was impaled by a carving knife. We'll check back in with him later.
Now, I'm not a vegetarian (although I don't eat red meat) but two vegetarian characters eating meat within months of each other does strike me as odd. It's probably just a coincidence but I know several vegetarians/vegans and they get a lot of flack from others about their convictions so I'm here to stand up for the Comic Vegetarians! Stop making them eat meat! While you're at it, try and keep the lesbians in the DCU from having sex with men. Just putting that out there.