Comic Couture
If you're looking for an exquisite haute couture gown, you go to Paris. If you're searching for Comic Couture, you go to the New York Comic Con.
NYCC 2009 was awash with fantastic costumes from all walks of fandom – comics, anime, sci-fi movies and television, not to mention video games. It would be almost impossible to document all of them. Even more so when you've got a camera that doesn't like open spaces indoors (grrr). Sometimes I can't believe how amazing peoples costumes are. I mean, this year there was a
Mad Scientist with an actual Robot Chicken
! A Robot Chicken! It smoked and everything!! Here's a random sampling of cosplay I was able to catch throughout the weekend starting with mine.
I cheated this year. I had a friend put together the actual catsuit for me because, I admit, I have absolutely no talent for sewing. Trust me, it was better this way. I wanted to go with a modern version of Catwoman but change it up a little and I took my inspiration from this
amazing Alex Ross cover
. 
I felt weird about having my entire head covered so I skipped the head piece and wore just the goggles. The boots I already owned and most of the jewelry is my mom's. The giant orange diamond is actually a paperweight I found at T.J. Max. Believe it or not, the whip was the hardest thing to find. Most costume shops are low on stock this time of year and even the local sex shop was out. I finally found a costume place with only one left! I'm happy with how it came together but the catsuit was done in a hurry and I want to work on it more before I do a fun photo shoot. As a side-note, since no one noticed, my hair is currently two colors – my natural red growing in on top and black on the bottom. I had the great idea of saying I was half Selina Kyle, half Holly Robinson (red hair) Catwoman but it never came up in conversation.
Kid Flash joined the fun at the DC Nation Panel.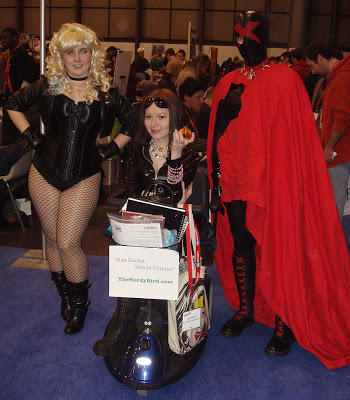 Black Canary, me shamelessly advertising and X.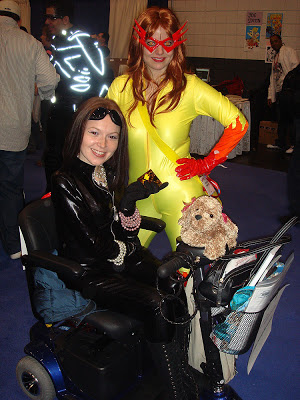 Word of her upcoming Smallville appearance must have spread like wildfire. There were tons of Zatanna's walking around this year.
Not to ignore the Marvel side of things, Psylocke. If you see a man with three claws alert the authorities. 
Last but not least, a fantastic evil Supergirl. I've always loved that outfit.
I'm already taking ideas for next year (or possibly SDCC). Have you ever dressed up for a convention? Who would you dress up as if you had the chance?
You can also view and discuss this article over at
GEN
.