DC Comics at the NY Comic Con – One Liners Galore
"How many people here want to know what's going on in the DC Universe?" That question was posed by Sr. VP/Executive Editor of DC Comics Dan Didio at the start of Friday's "DC Nation" panel of the NY Comic Con. It was met with a decent amount of applause and lots of laughter when some of the DC editors raised their hands. After two DC panels I'm still in the dark about what's going on in Supergirl but at least I now know lots of new and exciting things about to happen in the DCU. Here's some news from both.
Gail Simone filled us in on what's coming up in Wonder Woman. "Some of the best scientists in the entire world have the mathematical formula to take down Wonder Woman, so we're going to create a new Rogues Gallery for her," she said. As if that wasn't scary enough she followed it up with this, "Someone believes the Amazons are a failed experiment and is going to create their own Amazons. However, we are going to have a new Wonder Woman — who is a man." No one in the audience knew quite how to respond to that so Didio asked if we liked their working title of The Manazons. It was a resounding no from the audience. One fan yelled out, "It sounds like a drag show!" Here's hoping it doesn't stick.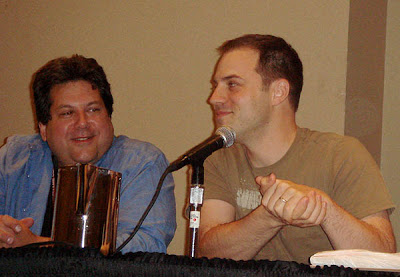 Peter Tomasi and Geoff Johns
Senior Coordinating Editor Jann Jones has been working hard on comics aimed at kids. She introduced a new six issue mini-series on the way called Supergirl: Cosmic Adventures in the 8th Grade. "We have a real commitment to taking our characters and making them really accessible to young kids," said Didio. And yes, 8th grade Supergirl will have a super cat.
The subject turned to the new Blue Beetle. After the crowd hollered that most of them read it, Didio admitted it is one of their weaker sales but, "one of the books that has the most support right now." Senior Story Editor Ian Sattler announced something different that would be happening in May. "Blue Beetle #26 is actually entirely in Spanish with English script in the back of the book," he said. Sadler and Didio said it is a good spot to jump on board. Blue Beetle is one of my favorite books so I was concerned about it's sales. At the second panel I decided I'd ask a question to see if I could help things along. Basically, I figured most people who weren't reading the book were big fans of Ted Kord and were still sour over his death during Countdown to Infinite Crisis. I stated that fans could still see him in recent issues of Booster Gold and asked if he was sticking around for good. "I can't tell you that," said Geoff Johns. What can I say? I gave it a shot. Speaking of Booster Gold Johns said that in issue one-million, "We find out who Rip Hunter is."
Of course the panel would finally get around to discussing Batman R.I.P. When asked directly by a fan if Batman was going to die, Didio put it to the panel. Keep in mind, most of their answers were in jest so there's no way to tell if they were telling the truth. Though by process of elimination one of them has to be right, right? Here were their varying answers:
Ian Sattler – "Someday."
Peter Tomasi – "Mmm could be?"
Geoff Johns – "Uh, no."
Sean McKeever – "Absolutely yes."
Jimmy Palmiotti – "Twice."
Gail Simone – "Of course."
Keith Giffen – "God willing."
Bob Wayne – "Not in a movie year!"
Jann Jones – "Mostly?"
Grant Morrison, J.G. Jones and Gail Simone
During the second panel the writer of Batman R.I.P., Grant Morrison, got a chance to speak. Didio asked him what that stood for and Morrison replied, "'Rest In Piece' apparently — but he doesn't." Morrison sounded excited that this would be the culmination of all his Batman work. "Basically if you miss this one, you miss your chance to say goodbye," he said.
Geoff Johns announced that in the JSA Annual in July, called "Welcome to Earth-2", Power Girl finds herself back home there. Jimmy Palmiotti then announced some of the biggest news of the day. He and Justin Gray will be working on a new on-going series with art by Amanda Connor called Powergirl. "It's one of the books we've been asked for the most," said Didio, "I'd just like to say, we heard you. We just wanted to get the right team, the right style and the right jump-off point." Hooray for Powergirl!
About forty-minutes into the first panel and numerous questions being directed at Geoff Johns he finally decided to say, "You know what's weird, is that most people call me 'Geoff Johns' instead of Geoff." That didn't stop the fans, they kept calling him by his full name. Though one younger fan finally just said Geoff, with emphasis.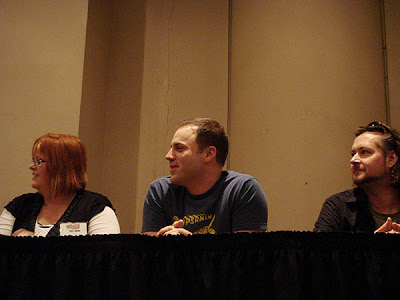 Gail Simone, Geoff Johns and Stephan Roux
In the second DC panel, just before she had to leave, Gail Simone delivered what was probably my favorite news all weekend. "We are doing a new Secret Six, ongoing," she announced. She anticipated us asking who the six would be, "Catman, Deadshot, Scandal, Ragdoll — an A-list Batman villain — and a new character that I've created with Nicola [Scott]." She revealed the new characters name is Jeanette and she has a secret that even the Secret Six do not know. She added, "It is going to be literally, the most ballsy DCU comic out there and it's going to be done by two redheaded women. So how cool is that?" Pretty cool if you ask me.
I was saddened to learn that Catwoman is getting canceled. A fan said he heard a rumor online and Didio confirmed it saying, "Catwoman is canceled, but that doesn't mean you won't be seeing the character in the DC Universe. By the next day of course news of the books demise had spread and by the time the second panel rolled around there was one very angry female fan who go up to demand an explanation. "I heard you're canceling Catwoman and I'm pretty pissed off about it. I just wanna know what's gonna happen to her," she said. Ian Sattler fielded this one, "She'll be in the Batman universe." But she quickly replied, "That's not good enough." She left unsatisfied with their answers and scared the panel so badly Didio felt the need to ask the next fan to, "Please be nice to us."
For the record, I did ask about Supergirl after my Blue Beetle question. I asked them what was going on, because I had no clue. Ian Sattler told me to hang tight, "Supergirl is gonna be a lot closer linked to Superman and Action shortly." Johns decided to add, "Supergirl is gonna be intricate, the character in the book is intricate to all the Superman plans for the rest of the year."  He continued to say she was an important character to the DCU, "We've got a story that's gonna kinda tilt her on her head but in a good way." I'm happy to hear that obviously because I think Supergirl deserves a lot more attention than she's gotten lately. But did you notice none of them actually told me what's going on right now in Supergirl? Nothing to do but wait I guess.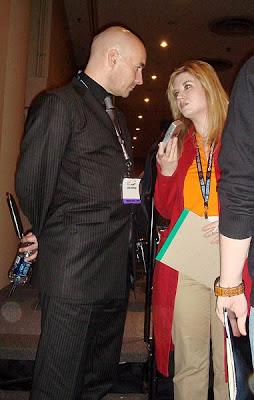 Grant Morrison
I think a good place to end would be with the fan who asked if Zatanna would be showing up anytime soon. After a few jokes about how she was sitting in the front row, i.e. me, Didio replied, "Reign in Hell and possibly something with Paul Dini coming very soon." Sounds good to me.