Disney, Marvel, & Star Wars-Themed Prosthetics For Kids Revealed as the Coolest. Thing. Ever.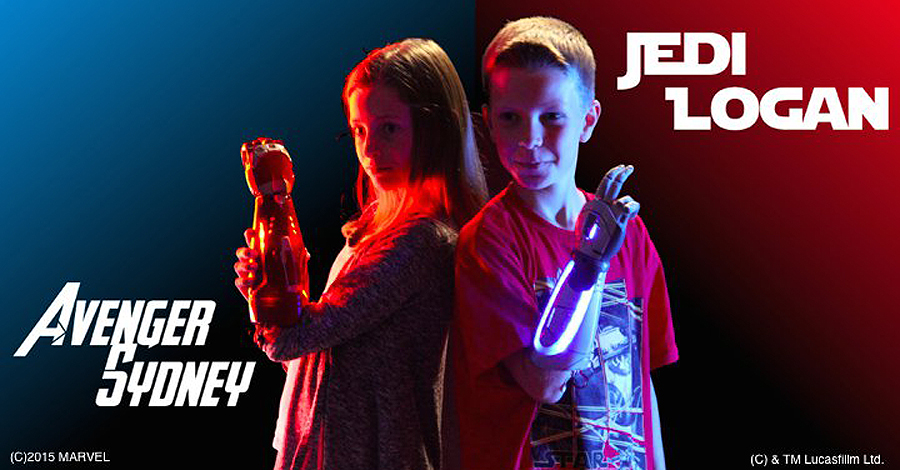 Open Bionics has teamed with Disney Accelerator to make dreams into reality by creating 3D printed prosthetics in the style of Disney, Marvel, and Star Wars characters for kids.
If you've never heard of Open Bionics, they're pretty rad. Based at the Bristol Robotics Laboratory in the UK, they create 3D printed robotic prosthetic hands. They say they are "pushing the boundaries of robotic medical technology whilst being cost-considerate." Take a look.
This is what we do… #3Dprinting #bionic hands for #amputees. pic.twitter.com/XE9x4Z8EjZ

— Open Bionics (@openbionics) August 28, 2015
But they've just announced their first bionic hands for children in a most epic collaboration with Disney.
"Now kids can get excited about their prosthetics. They won't have to do boring physical therapy, they'll train to become heroes," Open Bionics writes on their site. "They're not just getting medical devices, they're getting bionic hands inspired by their favorite characters."
Here's the specifics:
From the Marvel Universe, hot out of Tony Stark's workshop, the Iron Man hand.
Artwork designed in collaboration with Lucasfilm's ILMxLAB and inspired by Lightsabers, the Star Wars lightsaber hand.
Inspired by Queen Elsa from Disney's Frozen, the Snowflake hand.
This is like, too cool for school, no?
Open Bionics also writes, "The Walt Disney Company is generously donating the time of its creative teams and providing royalty free licenses," which is helpful in keeping the cost down. Here's a bit more about the part of Disney helping these ideas become a reality.
Disney Accelerator, powered by Techstars, is helping today's technology innovators turn their dreams for new media and entertainment experiences into reality. Through Disney Accelerator, select companies will gain access to the range of creative expertise and resources of The Walt Disney Company to help them develop their innovative new entertainment experiences and products.
As someone who uses assistive devices on a daily basis, I can't tell you how quick I would jump on a nerd-branded scooter. And if that type of thing came along when I was a kid? It would have gone a long way in making me feel incredibly awesome.
Open Bionics' Joel Gibbard told The Independent:
The power of these prosthetics is that the public perception is completely different. All of a sudden they're not being asked how they lost their hand, they're being asked where they got their cool robot hand, how does it feel, and how does it work? It completely flips the perception 180 degrees. What might have been perceived as their greatest weakness is seen as their greatest strength.
Since the news broke, Open Bionics has been inundated with praise as well as questions on where and when these will be available. They wrote on their Facebook page, "Thanks for the love and support everyone. We'll be releasing more information on these hands soon, as well as videos of them in action."
But they also noted the prosthetics are expected to cost around $500, be released sometime in 2016 and yes, they do come with sound effects.
(via Robot 6)