Elevenses and a show?
Some girls like ballet, some girls like fancy dinners. Take me to see The Lord of the Rings in concert and I'll be puddy in your hands.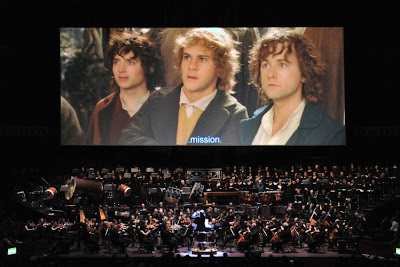 I was handed a flyer while heading into the MoCCA Festival yesterday. Usually I'm a rigid, "no thank you" kind of gal, but once I saw it was about LOTR I decided to take it. Boy was I glad I did.
On October 9 and 10 be ready to experience The Lord of the Rings: The Fellowship of the Ring like never before. Beneath an immense projection of Peter Jackson's film, the 21st Century Orchestra, under the direction of Maestro Ludwig Wicki, will perform Howard Shore's entire Academy Award®-winning score. Joining them will be the acclaimed voices of The Collegiate Chorale, The Brooklyn Youth Chorus, and soprano Kaitlyn Lusk.
LOTR. In concert. At Radio City. I just about fainted. As if that wasn't enough to make me go, composer Howard Shore himself will be there for a pre-concert talk and signing! Doug Adams, author of "The Music of the Lord of the Rings Films," will be speaking as well.
I'm getting chills just thinking about it. It's going to be the theatrical release and not the extended edition but hey, you can't have it all I guess. This is the official site if you want to check it all out. New events continue to be added to the concert itself making it definitely a night to remember. If you are at all interested I suggest getting your tickets soon. I have a feeling they'll sell out quickly. I'm absolutely going. Now all I have to decide is, will I go the ultra-dorky route and dress up…