Foxy Lady
Megan Fox
is confirmed as playing Aspen in the film adaptation of Michael Turner's comic Fathom. Does this mean we can officially take her out of the running for Wonder Woman? No, really. Can we?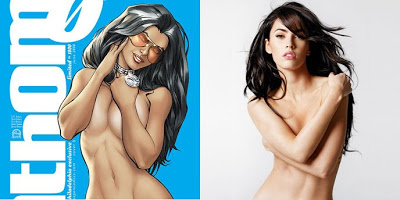 According to Variety, Fox will also be producing the film for Fox Atomic and Prince of Persia's Jordan Mechner will be writing the script. Turner, who passed away last year, will still be listed as executive producer.
"Fox would play Aspen Matthews, who was found abandoned on a ship and is adopted by a military man. She becomes a champion swimmer and marine biologist who comes of age realizing she has water-based powers and is part of an underwater race," said Variety. The comic was first introduced in 1998 through Top Cow but later found it's home at Turner's own
Aspen Comics
.
I've actually never seen Megan Fox act but she certainly has the look of the character and that's half the battle at least. Anyone read this comic? What do you think of the casting? What other female comic characters are you dying to see on the big screen?
You can also view and discuss this article over at
GEN
.