Frightening Friday
Having the distinction of being my favorite holiday, talk of Halloween can never come early enough for me. I was at a bit of a loss as to what to blog about today. Then I happened upon two truely frightening things and thought, "Hey, why not scare the crap out of everyone else!" Maybe I'm just a wuss, that's for you to decide.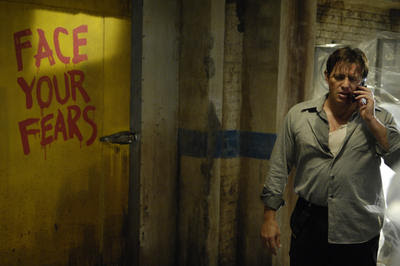 Firstly, I'm not going anywhere near Hollywood or Orlando come this October. Universal Studios has made a deal with Lionsgate to incorporate their Saw franchise into the parks annual "Halloween Horror Nights" event. Last year a Saw haunted house backed by Lionsgate saw 20,000 visitors alone. "The theme park should guarantee not only a bigger budget to build the planned horror maze that will promote the sixth film, but also a considerably larger audience, considering the 'Saw' attractions will appear at U's parks in Hollywood and Orlando," reports Variety,"Universal plans to incorporate the 'Saw' franchise's characters and grisly traps in a maze and in the parks' dedicated "scare zones," as well as on the 'Terror Tram,' a revamped version of its studio tram tour."
I'm actually not a huge fan of the Saw films, I only saw the second one a few weeks ago, but I think they're good. Combining their twisted games with something I've never been fond of to begin with though means this is not for me. There was a whole mix-up when I was younger. I thought the haunted house was the fun house and made my father take me in (I don't know what he was thinking) which resulted in the first "ghost" telling a then 8-year-old Jill that he'd find me wherever I was and us going out the way we came in. It was a whole big thing. Granted "Terror Tram" does sound very lame.
Now the other, far more frightening thing I came across was this trailer for the new Richard Kelly film,
The Box
, starring Cameron Diaz, James Marsden and Frank Langella. Take a gander and tell me 1:17 doesn't make you want to pee your pants.
The film is based on Richard Matheson's short story "Button, Button" which I've never read so don't spoil anything for me if you have. Apparently Arcade Fire and Final Fantasy's Owen Pallett have collaborated on the score, which should be really interesting.
The Box
opens October 30, 2009. Hey, I know someone who wants to
push the button
!