Han Cholo Star Wars Jewelry Review & Giveaway!
Star Wars fever is upon us. Guess what? When you've got a fever, the only prescription is…more Star Wars! So here is a review and giveaway of Han Cholo's Star Wars jewelry to help you out.
[Editor's Note: All links in this post are affiliate links.]
Entertainment Earth, knowing what huge Star Wars fans you all are, has given me a pair of Han Cholo jewelry items to review for you. But that's not all! I'll also be holding a giveaway for one of the items! But more on that later.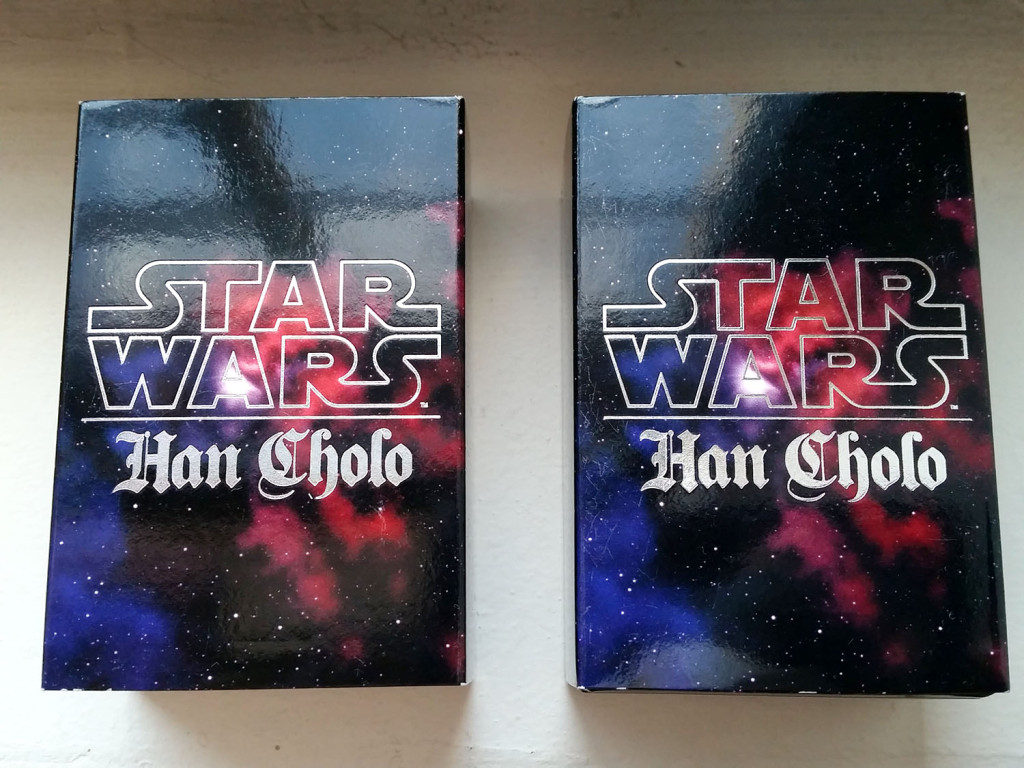 Han Cholo, aka designer Brandon Schoolhouse, creates his own unique pieces but also has done officially licensed items for Voltron and G.I Joe. His Star Wars collection is extensive and seriously cool.
Entertainment Earth sent me the Star Wars Obi-Wan Kenobi Lightsaber Stainless Steel Women's Ring and the Star Wars Yoda Stainless Steel Pendant Necklace to take a look at. (Don't mind the fuzz, I have cats.)
Star Wars Obi-Wan Kenobi Lightsaber Stainless Steel Women's Ring
Obi-Wan Kenobi's lightsaber may have been lost on the Death Star after losing his duel with Darth Vader, but now you can find it on your finger! This Star Wars Obi-Wan Kenobi Lightsaber Stainless Steel Women's Ring is a beautiful rendition of the Jedi Master and mentor's lightsaber – the weapon of a Jedi Knight. Not as clumsy or random as a blaster; an elegant weapon for a more civilized age. Made from stainless steel with gold coloring on the saber blade, if you're a Star Wars fan, then you've just gotta get this! Please note: This is a woman's ring sized between 6 and 7, but the ring is completely adjustable.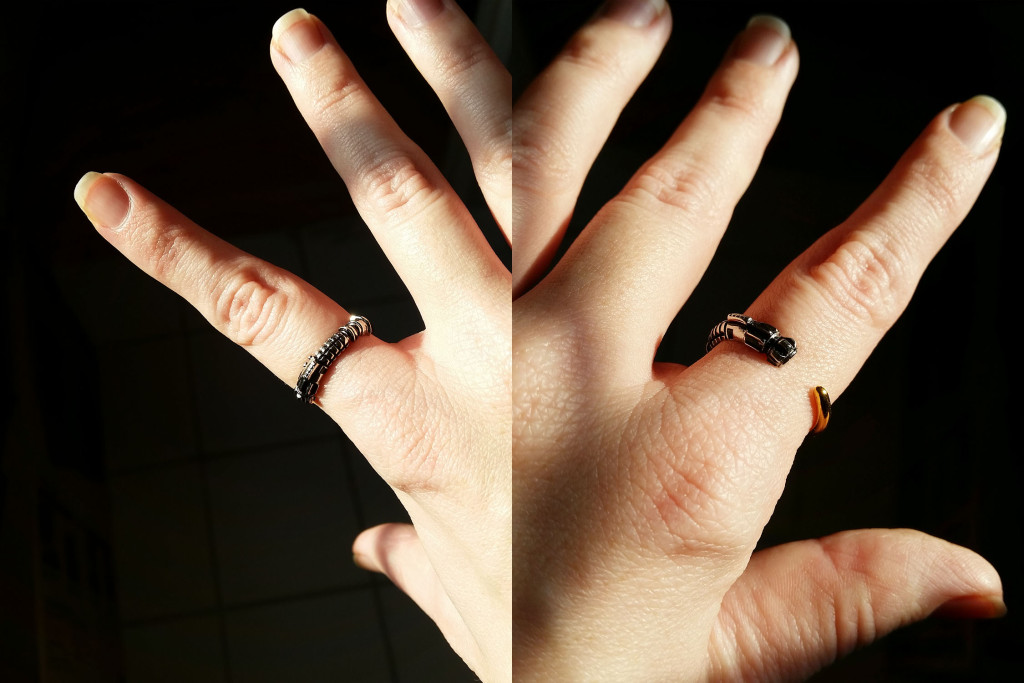 Ok, what do I love about this ring besides the fact that it's a lightsaber? Well for one, it's adjustable. Personally I like wearing rings on all of my fingers, so it's nice to know I could switch things up and wear it on any one I like. But unlike some adjustable rings this one doesn't feel cheap. It's still very sturdy.
The other thing I like is being able to show off whatever part of the ring I want to on any particular day. Personally, I like silver colored jewelry better so I would probably wear just handle of the lightsaber facing out most of the time but you can also wear it so half and half is showing (as you can see both above and below).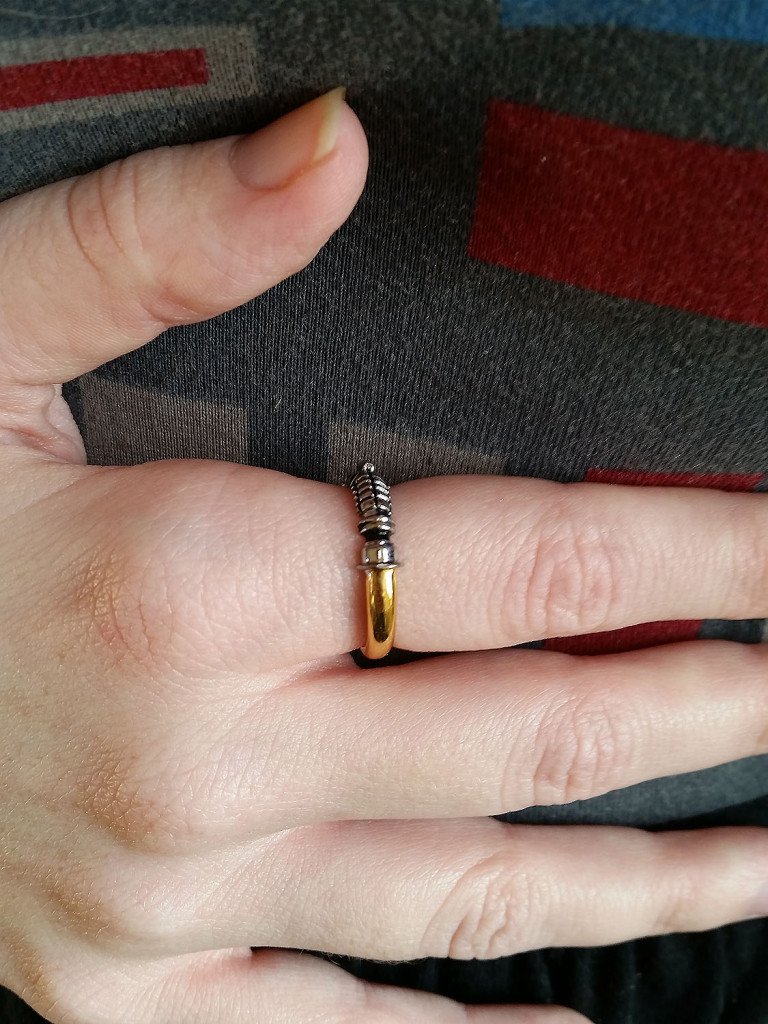 Star Wars Yoda Stainless Steel Pendant Necklace
Add some Jedi Master wisdom to your day when you wear this awesome Star Wars necklace! This Star Wars Yoda Stainless Steel Pendant Necklace is a highly-detailed rendition of the stooped Jedi Master. Made from stainless steel and colored gold, he even has the symbol of the Jedi Order above his head!
Who doesn't want a little wisdom around their neck? This Yoda necklace is the perfect accessory to let people know which side of the Force you root for. Once again, this piece is a quality item. When I took it out of the box I was actually surprised how heavy the pendant was. And the piece glides effortlessly through the Jedi Order symbol.
Yoda's image is 360 degrees which on one hand is great, on the other that means it will never lay completely flat against your chest. The chain itself feels slightly less sturdy (at least compared to the weight of the pendant), however the links are big enough to allow the clasp to close around any one of them. So while the chain is rather long (24 inches), you can actually wear it however you'd like, or however best suits your outfit and that's a big plus.
Like what you see? I'm going to be giving away the Star Wars Yoda Stainless Steel Pendant Necklace to one lucky person!
So, how do you win? First, you have to be following me on Twitter. That is non-negotiable. If you're not following and you win, I can't direct message (DM) you and will have to move on to someone else. So keep a close eye on your DMs soon after the contest ends. Secondly, you must tweet this, and only this, in its entirety and with no alterations (minus the quotation marks):
I'm entering to win a Han Cholo #StarWars Yoda necklace from The Nerdy Bird! https://thenerdybird.com/han-cholo-star-wars-jewelry-review-giveaway #JediMasterMadeMeDoIt #ICollectatEE
Just copy and paste the whole thing to be safe. Do not @ me in the tweet, that will disqualify you.
You have until Wednesday, December 16th 2015 – 12:30 p.m. eastern to get in your entry. There are no shipping limitations but no promises it will arrive before the end of the year. Good luck!
And don't forget to check out all the other Han Cholo items at Entertainment Earth!