Her Universe Debuts Appealing New Fashions at Star Wars Celebration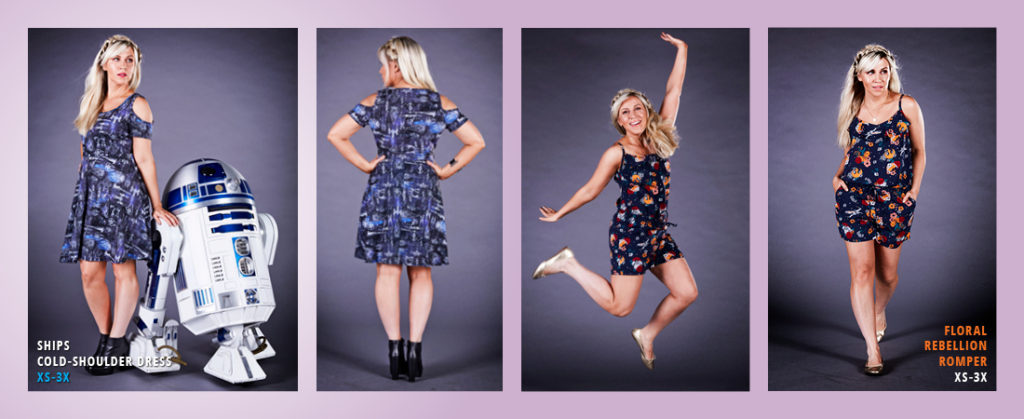 Ashley Eckstein has just debuted several new fashions from Her Universe to celebrate the 40th anniversary of Star Wars and more!
I adore Her Universe. They sent me some fun Doctor Who and Star Trek items recently (check out the ThinkGeek collection) plus they've got a new DC Comics collection at Kohl's, but Star Wars is where Eckstein got the inspiration for Her Universe to begin with so it's always exciting to see new stuff.
The latest will debut at Star Wars Celebration this month. Here's a look at what fans can expect.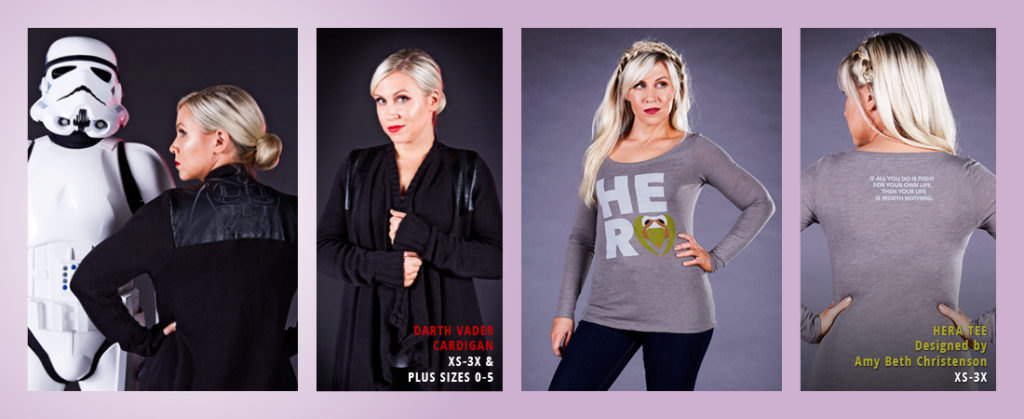 This Vader vs. Ahsoka tee is the only one for sale on the website right now and features storyboard art from the Season 2 Star Wars Rebels finale by executive producer Dave Filoni.
I am very, very into this jacket.
You can check out all the stuff here and if you're going to be at Celebration this month, you can check out the Her Universe boutique and Salacious Crumb's Back Shop! Eckstein will be signing, sitting on panels and more, you can see her schedule here.
In other Her Universe news, they're currently accepting submissions for their 4th annual fashion show at San Diego Comic-Con. I went to the very first one years ago and it was EPIC.
CALLING ALL DESIGNERS! The Her Universe Fashion Show design competition submission process is OPEN NOW!! Details – https://t.co/hRq8cv47Yg pic.twitter.com/ekwkYdrfsF

— Ashley Eckstein (@HerUniverse) April 4, 2017
And in other Star Wars news, Lucasfilm is putting out an anthology book with Del Rey in honor of the 40th anniversary. It's called Star Wars: From a Certain Point of View. StarWars.com writes:
When Star Wars: A New Hope was first released in 1977, part of its appeal was that the world it presented felt alive. Landspeeders and starships were dirty. Droids broke down. And it was filled with cool, weird, and really weird background characters. (Really, just take a look around the Mos Eisley cantina.) Never mind Han, Luke, Leia, Darth Vader, and Obi-Wan. Who were these other guys? What was their story? Just seeing them brought up questions for fans that sparked the imagination.

In celebration of Star Wars' 40th anniversary, Del Rey is going to shine the spotlight on those unsung weirdos, heroes, and villains with a unique, new anthology. Star Wars: From a Certain Point of View, coming October 2017, will bring together more than 40 authors for 40 stories. Each will be told from the perspective of background characters of A New Hope — from X-wing pilots who helped Luke destroy the Death Star to the stormtroopers who never quite could find the droids they were looking for.
There was some teasing going on for this one yesterday with the #OperationBlueMilk hashtag on Twitter but we know a few of the writers involved now – Delilah S. Dawson, Paul Dini, EK Johnston & Ashley Eckstein, Daniel José Older, Mallory Ortberg, and Gary Whitta – just to name a few. "All participating authors have generously forgone any compensation for their stories," according to the release. "Instead, their proceeds will be donated to First Book — a leading nonprofit that provides new books, learning materials, and other essentials to educators and organizations serving children in need."