Hey, That's My Cape!: Abracadabra
Zatanna is one of the most popular, non-famous characters in comics. The general public probably has no clue who she is, but to comic readers, DC in particular, she's kind of a big deal.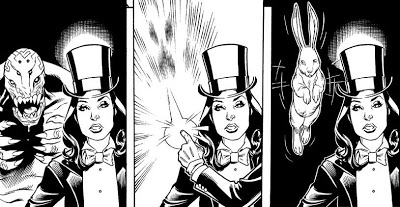 There's just something about Zatanna everyone loves. Maybe it's the top hat, the tuxedo coat or her penchant for speaking her spell backwards (NAMTAB POTS!). More than likely, it's the fishnets. Either way, after her longtime membership in the Justice League and with a few mini-series under her cummerbund, she's finally getting her very own ongoing from DC.