Hey, That's My Cape! – Jim Henson's TALE OF SAND
Among visionary creators, Jim Henson is probably near the top of the list the general public unanimously adores. From Sesame Street to The Muppets and Fraggle Rock, Henson built a legacy that would last long after he was gone. But there's a project of his, unlike any of his puppet work, that has now found its way into comic book form and if I'm right, comic book history.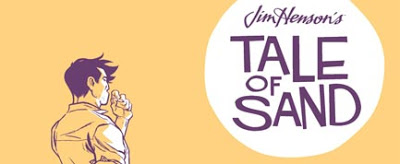 Tale of Sand from Archaia was a long time in the making. When I spoke with Archaia's Editor-in-chief, Stephen Christy, last year at C2E2, I was blown away to hear that they were going to be producing an old Henson screenplay that until recently had been locked in archives. Henson and frequent creative partner Jerry Juhl, had written Tale of Sand in the 1960s but couldn't manage to get a studio to pick it up, even after several rewrites. Lisa Henson, the creator's daughter and CEO of the Henson Company, supervised the transfer from screenplay to comic that might never have happened had Henson Company archivist Karen Falk not unearthed it. Along with art provided by Ramón K. Pérez and color by Ian Herring, Tale of Sand is a unique work from innovative minds that belongs on your shelf.
Read my full review in the latest
Hey, That's My Cape!
at
Newsarama
.