Hey, That's My Cape! – Powell's Diversity Vid, Help or Hurt?
Fans and creators alike seem divided over
The Goon
creator Eric Powell's video promoting new ideas and diversity of genres in comic books. Before I continue, if you haven't already seen it, well you're out of luck. The video has now been set to private on YouTube, a move I'm severely questioning as it shows, in my opinion, a lack of conviction in seeing your movement through. I'm going to summarize its contents as best I can for you while discussing the topic. I'd much rather let it speak for itself but well, them's the breaks.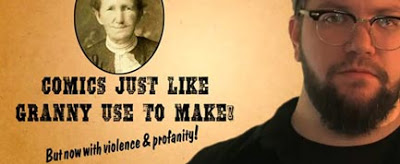 Powell has created The Creators Front For Diversity In Comics, now just The Front For Diversity In Comics apparently (there's a Facebook page if you'd like to join). The video itself? It has shock value. It reminds me of the negative campaigning we see each time the elections role around. It works to a point, but is it the right way to get your message (which is an important one) across? Because something this crass can have the opposite effect and turn a lot of people off. Either way, Powell's message is clear – publishers, creators and readers aren't doing enough to ensure diversity of genres in comics.
If you haven't seen the video, read all about it and my thoughts about it's impact in this week's
Hey, That's My Cape!
at
Newsarama
.