Hogwarts for Superheroes?
When you stay up late into the night feverishly reading a book you just can't put down (even if it weighs a ton) and seriously consider flipping back to page one when you've finished, I think it's safe to say you've found something special. Special is what
Joe Graham's
Omni: History Begins
is all about.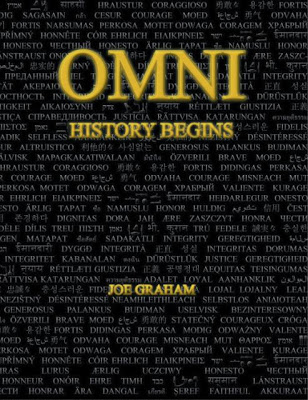 Set in the year 2012, History Begins is a magnificent work of superfiction, a genre not often found outside of comic books. This is one story that doesn't start off with an ordinary boy. Eleven-year-old Joseph Pringle is what's considered a "near miss" in a world rife with super humans. He's been gifted with super strength, speed and stamina, but not enough to be classified a "super." That is, until one day while trying to fix an art fair project, he transforms everything within a 200 foot diameter into steel.
Joseph's not in trouble, far from it actually. He's going to be recruited to the exclusive Alpha Academy. It's an elite school where only the best and brightest super humans are asked to attend. There he'll join others like him, some of whom have known they were headed to Alpha since birth, to learn how to manipulate and control their special abilities. The goal? To become superheroes of course! "Teams of Six" are positioned in major cities around the globe to protect humanity from whatever threatens them on a daily basis. Joseph even gets a super hero handle – Midas.
Retired superheroes and near misses will be their mentors on the long, hard road ahead. Alpha Academy is no walk in the park, it's more like boot camp. The Alphas are kept on the strictest of schedules while enduring constant training exercises and drills. Oh, and that's on top of attending actual academic classes at college level or above. You didn't think becoming a superhero was going to be easy did you?
Growing up, Graham was a big comic book, science fiction and fantasy reader. He sites J.R.R. Tolkien and Raymond E. Feist as some of his influences. "One of my favorite sci-fi authors is Orson Scott Card. I say that, because Ender was such a great look at an exceptional child thrust into exceptional circumstances," he said. As far as plot goes, Graham contemplated his comic reading days, "I thought of Superman, the gold standard that all superheroes are measure by, and asked the question; 'How could someone teach these things to a young person with regular character flaws?' The book follows a new team of freshly recruited supers as they learn all these lessons from scratch." Graham also made sure to keep a diverse cast of characters in mind. "I have three daughters and there is nothing worse than taking them to the action figure isle in the toy store with their brothers and there are no female action figures," he said, "I made sure there were an equal number of female to male superheroes in my world."