I'm crazy for keys!
People who know me very well know I have a bit of an obsession with keys. Not just any keys mind you, old skeleton or just plain unique keys grab my attention. It's no wonder I love Joe Hill's Locke & Key, well, besides the fantastic writing and art. Imagine my utter geekasm when I saw this.
IDW Publishing has commissioned a replica of the Ghost Key from the comic series. It's going to be a San Diego Comic Con 2009 exclusive and will come with the velvet pouch below, not the frame above. Limited to 500 pieces and priced at $20, this pewter with plated silver finish is bound to go fast.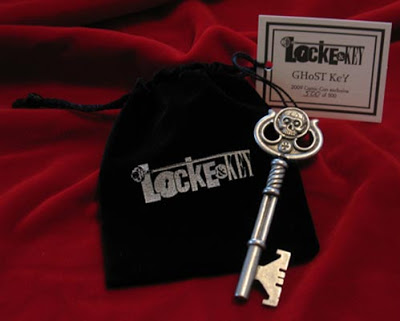 Joe Hill will be at the convention Friday to sign the tag. The key itself was created, by Israel Skelton of Skelton Crew Studios. He's also done a prototype of the Anywhere Key from the comic as well that's equally drool-worthy. I want them all.