In other news…
…I don't care. Movies are being made based on two comic books I've never read and probably never will read. Variety reported yesterday that both Zenescope Entertainment's The Piper and Top Cow's Alibi will be making their way to the big screen.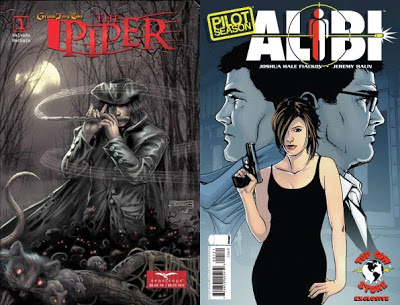 Persistent Entertainment and Pantry Films will be backing The Piper, "the cinematic version of the Pied Piper of Hamelin will introduce a darker version of the fable through the eyes of a much-bullied high school band student who unintentionally channels the spirit of the Pied Piper, only to realize the terrifying consequences of his actions are well beyond his control," says Variety. Zenescope's own Joe Brusha and Ralph Tedesco, the creators of the series, will act as executive producers on the project but no writer has been named so far.
The house that
Twilight
built, Summit Entertainment, will be distributing
Alibi
which Mandeville Entertainment nabbed the rights to immediately after San Diego Comic Con this past July.
According to Variety
this comic, which was part of TC's Pilot Season, "centers on a well-known socialite whose public presence establishes a perfect alibi for the covert activity of his secret twin brother, a government assassin." A bunch of big-wigs from Mandeville will produce along with TC's Marc Silvestri and Matt Hawkins but for this project a writer has already been named. John Hlavin from The Shield and future Underworld 4 scribe takes the job of the comic's original writer Joshua Hale.
One of Persistent's previous films was the bizarre Richard Kelly film, Southland Tales, so, yeah. Mandeville has The Proposal and Surrogates to their name. Seeing as how I've never read either of these books I just have two short comments to make.
1. Raise your hand if you hear, "Pied Piper of Hamelin" and think, "cool."
2. Time spent writing a one-shot in proportionate to the amount of money you make when selling it to a movie studio? Oh, about 1 to 1000. We should all be so lucky.