Italians do it better.
My gorgeous fellow Italians Sam and Gina got married over the weekend. I'd been waiting for this wedding since junior year of college. It was everything I expected and much, much more. I can't even begin to tell you how awesome it was so I'll let this picture speak for itself.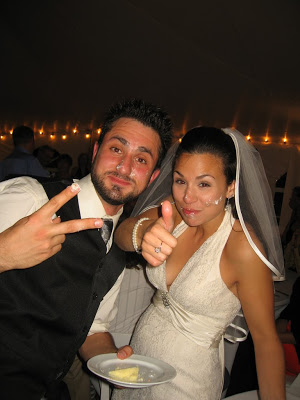 Besides dancing on tables and various other forms of debauchery this wedding ruled for an completely different reason. Not only were there lines from The Princess Bride spoken at the ceremony, this was their cake topper.
And here, just because I know you'll ask, is a shot of me. For once my friend Eric didn't make a nasty face while taking a picture with me so this was the one I chose.
And don't worry, that other, much geekier event I attended this past weekend will be reported on tomorrow. Plus! This weekend is Big Apple Con, if you're going to be attending look out for me. I'll be in my Red Lantern costume on Saturday.