I've missed you NYCC!
It's been too long New York Comic Con! The last time I saw you was, what? February of 2009? My goodness how time flies! What's that? You've missed me too? How sweet! Let's never go that long without seeing each other again. Pinky swear? What's that? You don't have pinkies? You aren't a person? This joke is getting old? I agree. Let's get on with the good stuff.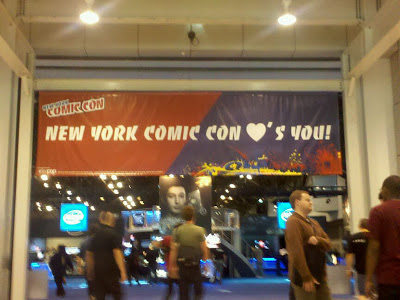 Even though I'd been looking forward to it for a while, I don't think I was adequately prepared for NYCC just yet. I think I was still physically and mentally drained from San Diego Comic-Con if that's possible. But I was determined to see friends, toys and costumes and have the time of my life anyway.
I actually had to barrel through people with my scooter to get to his table. I got on his list, which doesn't guarantee you a sketch, and then hoped for the best. When I went back to his table to check on Saturday his wife Allison Sohn told me he was working on mine right then. SQUEEEEEE!!!! When Adam handed it over to me on Sunday I was speechless. I was expecting greatness and beauty and I got that tenfold. When it finally set in later what I was holding in my hands I actually cried a little. So as worn out as I was, this made my con. Probably my year if I'm being honest.
Overall thoughts about NYCC this year? Too crowded and not enough thought to how the passes were handled. Holding the New York Anime Festival at the same time is convenient for Reed Exhibitions and the Javits Center I'm assuming but it's kind of horrendous for fans and creators. The passes had very little in the way of identification on them. For example, my press pass merely said "Press," with no name, barcode or news organization listed on it. I could have given it to anyone. I even heard people were selling bootleg passes out on the street because it was so easy. Other than that, I didn't get much out of the convention floor because it was too crowded and there weren't as many vendors that interested me.
But all that being said, NYCC is still my show and I enjoyed having everyone be on my turf for a change. :) Did you make it to NYCC? What was your opinion of the show?