James Cameron Told Aliens' Vasquez "You Don't Have to Be Likable"
Say what you will about James Cameron's current creative plan, the man had some great things to say back in the day.
Actor Jenette Goldstein spoke to HitFix recently about her time as PFC Jenette Vasquez in Cameron's Aliens, a character (much like Ripley herself) that had a profound impact on me as a young girl. That was of course in large part due to her appearance and characterization in the film, something far outside what I was used to seeing in female characters at the time. I remember her showing up in Cameron's Terminator 2: Judgment Day as well as Star Trek: Generations and going "THAT'S VASQUEZ?!"
Speaking to HitFix she said:
I liked the fact that she just happened to be a woman," said Goldstein of the character. "And I think that's…it didn't matter what gender you were. I certainly thought it was great that — you know, this was the '80s, where I didn't have to be — Jim said, 'you don't have to be likable. I don't want likability…You just be the person, and who cares if someone — that's not the point, if someone likes [her].' And I thought that was really groundbreaking that it was a movie and the director was like, 'You know what, I don't care. Just be the person.'
Some of Cameron's ideas of that female character came down to logic, as Goldstein explained, "I had psoriasis, and I had this big outbreak on my knee that looked like I had fallen off a motorcycle. Like, red on my legs. And the first scene [where] we wake up [on the Sulaco] I'm wearing shorts. And I said, 'Ooh, my legs are a mess!' And [Cameron] said, 'Who cares? You're a marine…I don't care.'"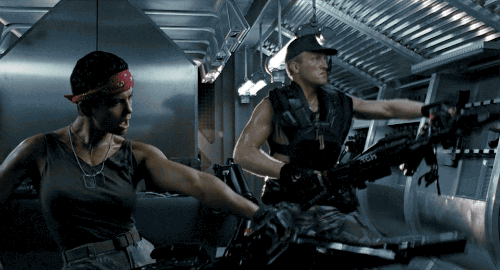 HitFix writes:
Particularly with the benefit of hindsight, she understands just how unusual Cameron's attitudes were and in many ways still are when it comes to representing women onscreen.

"It's a rare person that is able to have either that kind of power or those kind of balls, cojonoes, you know, to go against the tide when everybody [says]…'she's not pretty enough,'" said Goldstein. "You know, 'she's a surgeon but she's still gotta be pretty.' [Laughs] 'Oh no, nobody will come!'…[That kind of attitude is] not gonna end, let me tell you. It's not like that's going away."
Fun facts: Goldstein currently runs a company called Jenette Bras, a large-size bra specialist. Also, Vasquez never had an action figure [Edit: Here's one from back in the day. Thanks, Adam!]. That's all about to change (and you'll likely be seeing a lot more Alien stories next week) thanks to "Alien Day." I received a press release while I was away that got me particularly excited.
Twentieth Century Fox Consumer Products announced today an out-of-this-world global celebration of the ALIEN franchise culminating with a special 24 hour, fan-focused social media event on April 26th – a nod to LV-426, the planet from the iconic ALIEN films. ALIEN DAY (#AlienDay426) to encompass a wide range of executions including nationwide screenings, never-before-seen consumer product activations and the kickoff of the ALIEN: Ultimate Trivia Challenge, allowing fans to test their ALIEN knowledge – with the chance to win memorable prizes every 42.6 minutes on Twitter.

Fox Consumer Products has teamed with an impressive portfolio of licensing partners; showcasing everything from unique apparel to exclusive comic books to high-end collectables. One of the most-requested licensed products, the Reebok Alien Stomper worn by Sigourney Weaver as Ellen Ripley, as well as the mid tops worn by Lance Henrikson as the Android Bishop, are being released by Reebok in limited edition to mark ALIEN DAY. The iconic movie sneakers will be available beginning April 26th at Reebok.com and select Reebok stores worldwide.
I…need…these…like…I…need…air. But wait, there's more!
· NECA announces the first ever Lieutenant Vasquez (Jenette Goldstein) and Newt (Carrie Henn) figure; as well as the release of a Kenner toy-Inspired Ellen Ripley figure

· An ALIENS Queen & Power Loader and Ripley figure set in the tradition of their wildly popular ReAction retro action figure series from Funko LLC

· Dark Horse Comics expounds upon Brian Wood and Tristan Jones' ongoing ALIENS comic book series with exclusive covers for participating retailers and a deluxe 30th anniversary hardcover version of the original ALIENS series from 1986

· Titan Books launches the brand-new novel Alien: Invasion (The Rage War book 2) by Tim Lebbon

· Available on Audible; a brand new audio drama, Alien: Out of the Shadows – starring Rutger Hauer (Blade Runner and Batman Begins) in his first audio role, Matthew Lewis (Harry Potter film series) and Corey Johnson (The Bourne Ultimatum) is a terrifying fight for survival and an intense struggle between human and artificial intelligence.

· DC ENTERTAINMENT – Together with Dark Horse Comics, DC Entertainment will re-release the fan-favorite Batman VS ALIEN comics for the first time in over a decade

· FRIGHT RAGS – Horror apparel retailer Fright Rags will release limited edition ALIEN-themed apparel

· THE UPPER DECK COMPANY – The leading trading card company will launch ALIENS Anthology Collector Trading Card and the ALIENS "Vs" Trading Card Game system

· HOT TOYS – The Hong Kong-based collectible manufacturer is announcing an all-new ALIEN Ripley 1/6th figure

· KOTOBUKIYA – The Japanese manufacturer unleashes an assortment of highly detailed collectables this spring including a 1:10 scale Warrior Drone ARTFX+ statue from ALIENS and mini "Big Chap" figurines posed to strike up conversation around your home or office!

· INSIGHT EDITIONS – The illustrated pop culture book publisher will release the trade edition of the Weyland-Yutani Report

· An all-new ALIEN Internecivus Raptus Statue from Sideshow Collectibles

· SUPER 7 – The San Francisco based designer toy and apparel company has developed several toys in honor of the ALIEN DAY: ALIEN Muscle figures on card; ALIEN ReAction carrying case with exclusive ALIEN figure; Nostromo playset Kit Bash kit; Japanese vinyl Queen and ALIENS Glassware

· LOOT CRATE – The monthly mystery subscription box for pop culture fans will launch a limited-edition ALIENS 30th Anniversary crate on 4/26 filled with exclusive merchandise, collectibles and more from all core licensee partners.

· MEDICOM TOY – Japan-based toy company MEDICOM TOY will release VCD (vinyl super deformed) ALIEN figure and retro style ALIEN figure via Diamond Comics

· USAopoly – Launches a pair of classic board games with a thrilling twist: YAHTZEE® ALIEN VS PREDATOR™ and CLUE®: ALIEN VS PREDATOR™

· HOLLYWOOD COLLECTIBLES to release a large-scale model of the Derelict from Alien, molded from an original model that H.R. Giger created for an exhibition in Las Vegas
You can find out more about "Alien Day" and all the contests at AlienAnthology.com.