Jem is truly outrageous. Again!
Jem was totally one of my idols growing up. I loved her so much I still have all the dolls in my closet right now. So I'm happy to hear
Jem and the Holograms
will once again be airing on television!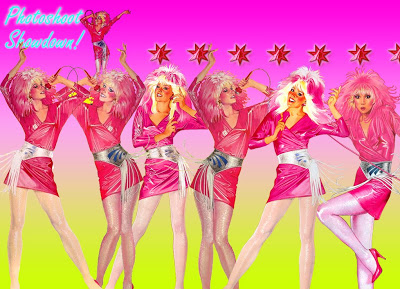 Starting May 28, the Hub will start airing old episodes of the 80s classic. By May 31st it will be part of their weekly lineup. Jem and the Holograms originally ran from 1985-1988 and revolved around Jerrica, a buisnesswoman by day, rockstar by night. And let's not forget about Jem/Jerrica's purple-haired boyfriend Rio.
Now granted, I did have three older brothers growing up so seeing all these
G.I. Joe
,
ThunderCats
remakes had me excited but Jem…Jem was my girl right up there with She-ra. I haven't watched
Jem and the Holograms
*since* the 80s so I'm sure I'll be cringing at most of the episodes but you can't stop me from singing along to all of the band's awesome songs. Not to mention the Holograms rival band, The Misfits. No, not
those guys
,
these guys
. I may even take out my dolls. timeslot
The Hub airs a six-episode marathon starting at 2 p.m. on May 28 with its regularbeginning May 31 at 7 p.m. I'm still waiting for the live-action movie.