Lightning Power
They say lightning never strikes twice but for DC Comics writer Geoff Johns, apparently it does. Recently announced to be producing and co-writing The Flash live-action film for Warner Bros., it's now being reported by Variety that he'll be co-writing the Captain Marvel film Shazam! for them as well.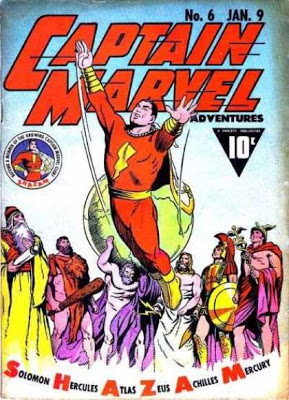 Actor/writer Bill Birch will serve as the other new writer on the project. The same director, Peter Segel (Tommy Boy, Get Smart) is still attached. Originally being developed over at New Line, Shazam! has had numerous writers working on drafts in the past such as John August, William Goldman, Bryan Goluboff, Joel Cohen and Alec Sokolow. According to Variety the team of Johns and Birch will be starting fresh. "The studio is now looking to go back to the original DC Comics source material for inspiration," they said.
With all the Marvel films that have been produced recently, it's very exciting to see several DC properties finally moving forward. It's about time! And seriously, they couldn't have picked a better writer to hire. I'm curious as to where they are going to take the Shazam! story. I'm sure it will be Billy Batson's origin but will they bring in Black Adam at all? Mary? Tawky Tawny?? For the record, I'm still pulling for The Rock to play Black Adam. I know some people think he should play Captain Marvel but I just don't see that at all. What do you think of the news and who do you think should play Captain Marvel/Billy?