Metal Park's Geek Art
The holidays in New York City is something everyone should experience at least once in their lives. Yes, the
Rockefeller Center
tree really is that impressive, not to mention the tons of other sights to see this time of year. For sure
Bryant Park
is one of them. They have an ice rink as well plus tons of specialty shops and boutiques scattered around the park for holiday shoppers. While showing some out-of-town friends the area this past weekend, I found my new favorite shop,
Metal Park
. Why is it my favorite? They make geek characters into recycled metal art!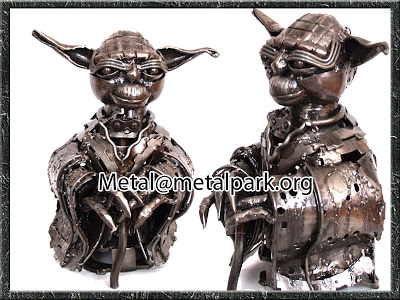 The artist, Pairoght Jarusuwan, must be a huge lover of sci-fi and comic books because he's fashioned tons of geek characters from these genres. The statues are created from recycled engine and motorcycle parts plus random scrap metal. Then, they're ARC-welded, polished with a wire brush and coated with lacquer to prevent rusting. And we all know, as old as Yoda is, he never rusted.
Besides these awesome AT-ATs, Metal Park has X-wings, speeders and several other
Star Wars
vehicles
for sale. As amazing as those are, while perusing the shop, I highly considered taking home my very own Sith Lord…
There were several different sizes and versions of Darth Vader plus a few badass Boba Fetts to be had. The store also held an R2-D2, several types of droids and a Jar-Jar Binks. You can see a few other
Star Wars
pieces
here
.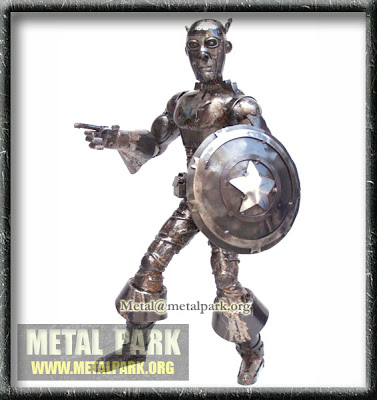 Star Wars
wasn't the only geek fiction represented in the shop. Far from it actually. There was a nice selection of superheroes as well. This Captain America will definitely be able to fend off attacks with that epic shield. As you'd imagine, there's a few
Iron Man statues
, plus a few Ghost Rider items as well. I saw a very cool Spider-Man in the actual shop too.
The first thing that caught my eye at the Metal Park shop was an (I'm estimating) 8-foot tall
Predator
statue. It cost $12,000 and it was already sold. (Hope they don't live in a walk-up!) There was a bunch of smaller versions though, some with the mask, some without, all awesome. There's even
a lamp
!
Of course you can't have Predators without Aliens. In fact, if I hadn't already purchased my brother's Christmas gifts, he would have gotten one of these. We're firm Alien supporters when it comes to Alien vs. Predators. :) Check out some more, including an extremely scary table at the website.
Granted, a lot of the pieces online are already sold or sold-out (though the site says some may be available after the New Year) but are you really surprised? These are geekTASTIC! Take for example, this wicked Optimus Prime who isn't the only
Transformer
being transformed into art.
And yes, let's not forget video game characters. BioShock's Big Daddies are already giant hunks of metal, they certainly lend themselves to these recycled creations. I can hear them coming now.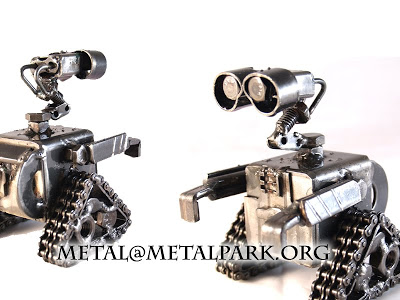 And just in case you thought there were only cool, scary statues available, fear not! It's
Wall-E
to the rescue! Another great choice for representation by scrap metal if I do say so myself. Girlfriend EVE was also in the shop looking pretty as ever.
The statues range in size from five inches to eight feet and from about $25-$12,000 in price. Jarusuwan will be at the booth in Bryant Park until January 2 but you can always purchase something from the website. He also does private commissions if something you want is sold out or you just have an entirely different character in mind. I'm highly considering going back for one of those Vaders I saw or maybe the Wall-E, I'm really kicking myself for not just buying one then. But perhaps I'll commission a
Tik-Tok
from
Return to Oz
instead. Something tells me Jarusuwan would create a fantastic depiction of the Army of Oz.
What do you think? Aren't these crazy amazing?!