Metroid Fan Film Reminds Us Hollywood Should Really Make a Deal With Nintendo
Over the summer I said I couldn't believe a Metroid movie hadn't been made yet. Perhaps this new fan film dubbed The Sky Calls will get them moving?
Rainfall Films has just released this new 11-minute video game adaptation which resulted from a fan vote. You may remember them from their fantastic Wonder Woman fan film starring Rileah Vanderbilt as Princess Diana. This time it's Nerdist's Jessica Chobot who steps into the famous shoes of Samus Aran of Metroid.
Directed by Sam Balcomb and also starring America Young (motion capture/stunts), it's easy to see the short takes on a very Alien vibe. As described on their site:
Instead of using a modern approach, director Balcomb chose to incorporate a style more in tune with the types of films that inspired the first Metroid game in 1986 (which named one of its creatures after Ridley Scott), favoring exploration and isolation over action spectacle. Techniques including VHS transfers and custom scanned 16mm film stock were implemented to give the short its retro look. Composer Dodson's original score pays homage to composers Jerry Goldsmith and James Horner, while the sound design was specifically tailored to evoke both sci-fi classics and the video game's iconic universe.
What strikes me as odd is there's no mention in the YouTube description about who worked on the special effects and graphics the film relies so heavily on. However, this title card at the end gives us that info.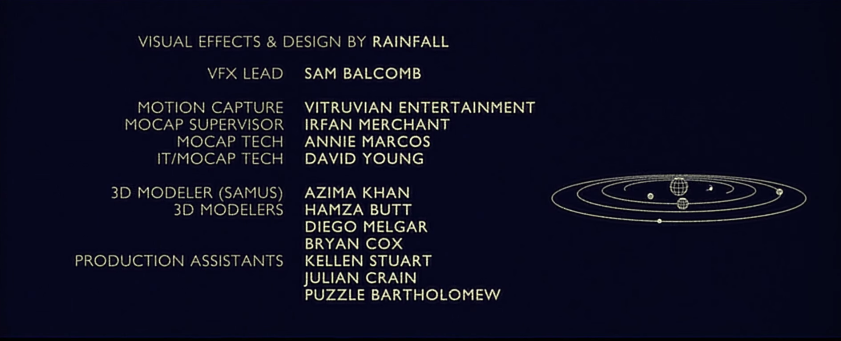 As a Metroid fan, I thought the short was pretty great and would love to see more. If you're interested you can find more info on Rainfall's Metroid landing page.